15th March 2003
Super Moderator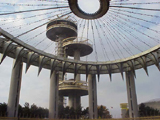 Beyond the CD: A Bid to Burnish Records' Sheen
---
Here's a long but positive look at those little silver disks.
Beyond the CD - PART I: A Bid to Burnish Records' Sheen - NYTimes.com
March 13, 2003
By WILSON ROTHMAN
IN the age of online music, when any 15-year-old with a
modem can download the complete works of Eminem, some
listeners may well have bought their last shiny silver
disc. After a 10 percent plunge in CD sales last year, the
record industry is desperately trying to find a way to take
its business online - and make it pay.
But a second front is developing in the music
counterrevolution, with a different set of weapons aimed at
a different kind of target. The strategy is to keep
listeners - especially older, more affluent ones - buying
discs, and making what is on them richer in sound and
appeal.
The discs in question are not in the 20-year-old CD format
but in two more advanced forms: SACD (for super audio
compact disc) and DVD-Audio. Both contain music remastered
in high-resolution digital audio, often in cinematic
surround sound, like DVD movies. Although the two formats
have been around for several years, such discs were priced
much higher than normal CD's and tucked into specialty
racks found only in larger record shops. Figuring out what
machines could play them has generally been confusing, or
at least obscure.
But now the record industry is giving new priority to these
feature-rich audio discs. Having lowered their prices to
typical CD levels, the labels are ramping up re-releases of
classic albums, and planning releases of new albums in
those formats. On March 24, for example, EMI's Capitol
label is reissuing Pink Floyd's "Dark Side of the Moon" on
SACD.
Hardware makers, meanwhile, are lowering prices on players
and home theater systems, and are planning to put the
format into cars and portable players.
"In 2003 you'll see EMI and other music companies
experiment aggressively across a range of platforms," said
John Rose, executive vice president of EMI Recorded Music.
"This is going to be a very important year."
In short, the record industry is looking for the kind of
silver bullet that Hollywood found in DVD's. "The movie
industry has done a brilliant job in bringing real value
back to movies," says John Trickett, chairman of the 5.1
Entertainment DVD-Audio production company and record
labels. "Now it's time for the music industry to bring it
back to music."
With that mission in mind, record companies are coming at
consumers with up to three new features: high-resolution
audio, multichannel capability (better known as surround
sound), and in the case of DVD-Audio, TV-based multimedia
content. So far much of the material has been geared toward
audiophiles and baby boomers, with a range of classical
music as well as classic rock titles from artists like the
Police, the Eagles, Steely Dan and Creedence Clearwater
Revival.
The presumption is that before DVD-Audio or SACD can entice
users of tune-swapping communes like KaZaA, it has to be
sold to those who not only still pay for music but are also
willing to pay to enhance their listening experience beyond
that of a typical CD.
That audience is more inclined to embrace new hardware,
which for both SACD and DVD-Audio is typically a DVD player
with an additional chipset and six outputs for surround
sound, or in many cases, a specially designed "home theater
in a box" system. What the industry gets in return, besides
the consumer's money, is the peace of mind that comes with
the latest in digital content security: most experts agree
that neither format's content will be pirated anytime soon.
http://www.nytimes.com/2003/03/13/te...0eff8cbc177ac6
More to come...