23rd June 2005
Moderator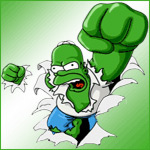 Quote:
Originally Posted by no ssl yet
MY ONLY PROBLEM

Has nothing to do with sync. Its when using soft synths (which i do alot of) I have to keep the individual midi channels in record mode inptools to get sound from the MPC sequences. I never need to record the sequence in the MPC but EVERY time I play the sequence I'm recording more data to ptools for NOTHIN. I think there needs to be a midi record monitor mode (like track punch but for midi)
Bingo! PT sucks for use with soft synths. Plus most of the plugins aren't optimized properly for use in RTAS. It's why I use Cubase now. I couldn't imagine actually using PT with softsynths ever again. You need to get a copy of Cubase SX3!