4 weeks ago
Loudspeakers and rooms - a scientific approach
---
Hello all
What I'll present here is a short and simple abstract of the content of Floyd Toole's book "Sound Reproduction".
I feel far too few people are aware of the science behind loudspeakers and rooms and I will attempt here to guide those that feel an interest towards this subject. The 'science' started at the NRC in Canada and has evolved over many years to what we have today, which is excellent knowledge on the subject in no uncertain terms.
The results of this research are used by many brands the world over, some advertise it, others mention it in whitepapers, some simply use it without a word. The fact that many direct competitors make use of this research shows that the science works. Many end-users however are still in scientific dark-age. I hope to at least spark your interest with this post.
Frequently the topic on how to choose a monitor loudspeaker comes up. The answer is often that this is a personal choice, and depends on the room or even the genre of music you're working on.
Although widely accepted, this information could not be more wrong. Although playback level, listening distance, and bass extension will play decisive role – the role of preference and even the room plays a smaller role than one might assume. Decades of scientific tests, correlating subjective measurements (blind listening tests) to technical measurements have concluded that independent of the room, listeners prefer loudspeakers that feature under anechoic conditions (!) a neutral (flat) direct sound, and smooth overall directivity. In practical terms if we have a series of loudspeakers that have been rated from good to bad in one room using blind testing, the overall score will differ from room to room, but they will not be rated differently. A good room can make a loudspeaker better, but it will not make a bad loudspeaker better than a good one.
The role of the monitor:
The role of the monitor is simply to provide us with an honest presentation of program material. To allow a monitor to function as intended it is necessary to know under what conditions this monitor was developed and what its intended use is. Many of what are referred to as 'near-field' monitors are still designed to function in a 4pi space. This means that they will function properly away from boundaries. Positioning them near boundaries (on consoles, desks, near screens, ..) will negatively affect their performance as these very early reflections will essentially become part of the direct sound – negating the (hopefully) neutral performance the manufacturer has worked hard to create.
Loudspeakers that are designed for 2pi (in-wall performance) subsequently will not perform well if used in free-space with regards to low frequency amplitude and diffraction effects.
Calibration and Translation:
Many systems are calibrated in-situ to a certain target curve. Some believe this to be as flat as possible, some believe in a custom (house) curve. To determine what is right, it is important to know how a loudspeaker behaves in a room. In practical terms, there is a part where the room dominates, and a part where the loudspeaker dominates. A good rule of thumb is to calculate the Schroeder frequency of your room, and up that one octave to find the so called 'transition frequency' of the room.
Below the transition frequency we can not separate the loudspeaker from the room, and the loudspeaker (or subwoofer) will behave as minimum-phase. This means we can use EQ to optimise the response at a certain position, make compromises and EQ over several positions – or use mode manipulation using several low frequency elements (subs) to minimize mean-spatial-variance over a larger space, which when combined with EQ will provide a good low frequency experience over a large part of the room.
Above the transition frequency, things get much trickier. Since our brain is now able to separate loudspeaker from the room (the direct from the reflected sounds). The truth is, since it has been established that loudspeakers that feature neutral performance under anechoic conditions are always preferred under blind listening conditions, that one should simply let them be. Even if the steady-state room curve is not flat, it is important to realize that the direct sound, responsible for our perception of timbre, is correct. The steady-state room curve will involve early and late reflections. With multi-way loudspeakers, depending on their orientation, there will always be a cancellation axis as one moves off-axis in the direction of the driver orientation. While a microphone is not able to discriminate between horizontal and vertical reflections, the latter being of much less importance to humans, since our ears are in the horizontal plane, these cancellations will show up in steady-state room measurements, almost always in the crossover region. Correcting these would change the direct sound (the first sound to arrive) and would make a good monitor worse.
If horizontal directivity is not optimal, this will also show in the steady-state room measurements. If the horizontal reflections are too dissimilar from the direct sound, this will be heard as coloration. Having neutral loudspeakers, both on- and off-axis will very much help in this regard.
Apart from these, there are other, often very local interference effects that could be 'eq'ed out' but would also alter the direct sound field, and again negatively affect timbre. On top of that, it would most certainly make the sound worse for any other listener in the room. It is also tempting to shelf up the treble range, however a slightly downward trend in steady-state is normal. The reflected high frequency sound are the first to be absorbed by air, any dampening in the room – and normal forward firing loudspeakers tend to spray more sound in the room as one drops in frequency (directivity index).
What does all of this mean in practical terms? It means that when following these guidelines, there is a very good chance that other people with good loudspeakers will hear your work as intended, meaning the content translates well. It is a tradition to 'check' mixes on lesser monitors such as Auratones, NS10s, .. simply put, this practice makes no sense. There are an infinite number of ways a loudspeaker can have faults, but neutral is universal. Making a mix sound decent on a bad speaker will more often than not create an inverse of that particular loudspeaker's faults, making the mix sound worse on a capable system.
Time domain performance
"We do not hear waveforms, whether they are impulses, steps, square waves or any voice or instrument of music" – F.E. Toole.
As it turns out, humans are essentially phase-deaf in absolute terms. We can very much measure things we simply cannot hear. We respond very well to changes in amplitude response, but are generally insensitive to phase shifts. Phase matters in loudspeakers in multi-way systems where you would expect it to. In crossovers where phase inbetween drivers can interfere, and the reason that we are sensitive to this is, you've guessed it, because it will affect the amplitude (frequency response). In this regard we can assume phase also matters between loudspeakers as to create phantom images from mono signals.
F.E. Toole on low frequency ringing: "Room resonances at low frequencies behave as "minimum phase" phenomena, and so, if the amplitude vs. frequency characteristic is corrected, so also will the phase vs. frequency characteristic. If both amplitude and phase responses are fixed, then it must be true that the transient response must be fixed – i.e. the ringing, or overhang, must be eliminated"
Conclusion:
Loudspeakers with a neutral (flat, free of resonances) direct sound field and well behaved directivity characteristics, positioned correctly in a good acoustical environment, and calibrated below the transition frequency, should provide an excellent mixing environment, ensuring translation and listening pleasure. It is a fact that loudspeakers no longer have to be the limiting factor in performance. In many cases, it has now become the program material.
It is time to step away from the circle of confusion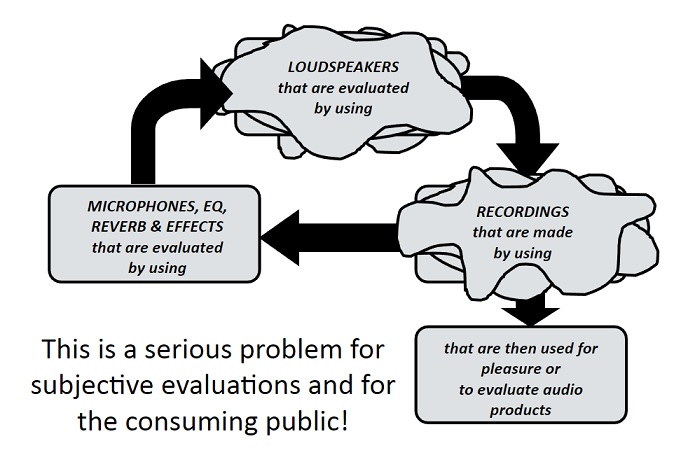 And into the orbit of order
I hope my post will spark some interest, introduce some polite discussion - and hopefully be of help for those of you confused and struggling - for those of you trapped in that circle of confusion.
---
Last edited by Fhorn88; 4 weeks ago at

06:31 PM

.. Reason: typo