7th February 2007
Moderator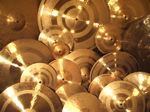 if you are shifting tracks manually, create a playlist, note the amount shifted (ie: "Kick 01 -1024 samples") and shift it IMMEDIATELY - especially with phase-interdependent tracks. Otherwise you'll be dealing with all kinds of unecessary smeary nonsense that is easily avoided.

You do have to be ON IT tho, otherwise you'll swap out plugs for example and end up with many incorrectly shifted regions.

Creating user timestamps for regions in their 'pre-shifted' positions and just spotting them back if you mess up can help you if you are new to this!