Sound Quality
Ease of use
Features
Bang for buck
Overall:
Hi-Tone HT103-DG Amplifier & Hi-Tone 2x12 & 1x15 Cabinet Review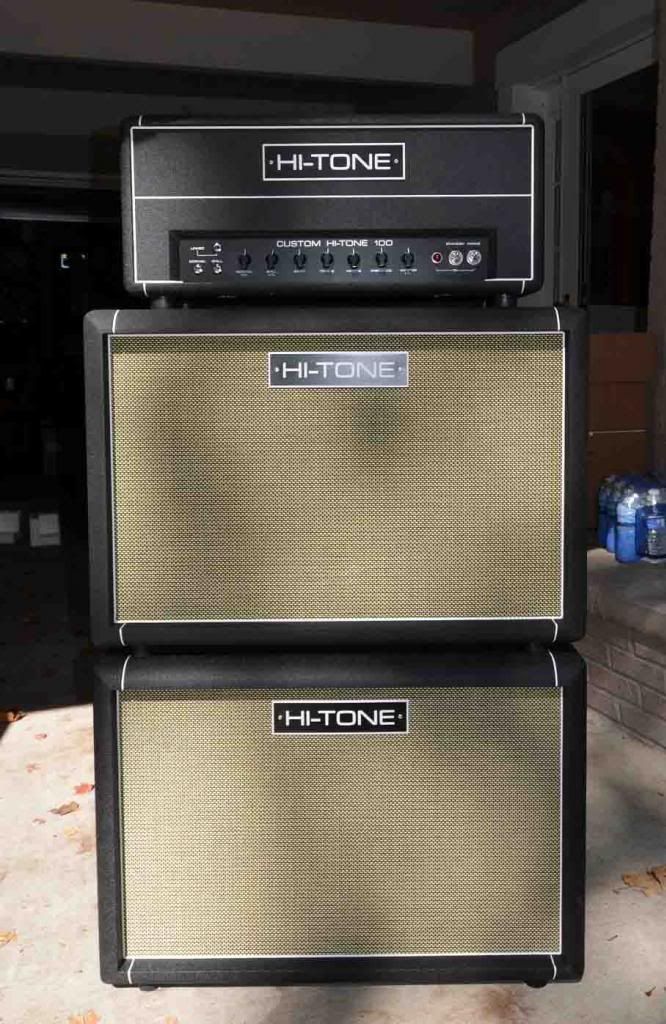 I have always been obsessed with Pete Townshend's "Live at Leeds sound" but, first some ancient history…

Although, not a Hiwatt, my first tube amp was a Sunn Sentura II. The Sentura II had a similar tone and most of the balls that you get with a real, Dave Reeves (inventor of the Hiwatt) amplifier.
It was 1977 and I was 17 years old when I bought the Sentura. Then, in 1996, I unwisely bundled it in along with the sale of my analog studio and the Sunn was gone.
I don't miss my studio but, I sorely miss that amp! What a great, naturally overdriven sound it produced – nearly identical to Pete's Hiwatt.

It's now June 2013, I'm in the midst of a midlife crisis and I am seriously jonesing for that old amp.
I decided to allow the crisis to consume me and with complete disregard to the Lady of the House, I begin the hunt for a Sunn.
After viewing a few sorry looking examples of surviving Sentura 1's and 2's, I realized that I didn't want the headaches that come along with used, vintage amps; mainly replacing exploded and leaking caps.

A couple of weeks later, it occurred to me… why not get a Hiwatt? After all, Pete Townshend used a Hiwatt at his famous and aforementioned, Live at Leeds performance... sounds like a plan? Right?
Unfortunately, I knew nothing about Hiwatts.
Fortunately, it is no longer 1977 and we have the internet to fill in the gaps of our incomplete educations. Kids today have no idea how difficult it was to do research back in the not-to-distant analog age!

The first thing I discovered was that Hiwatt (like Sunn) was no longer in business… at least the original company started by Dave Reeves was no longer in business.

I visited all the Vintage Amp boards, Guitar boards and Gearhead boards. I began to notice that there were quite a few Hiwatt clone builders and kits available and they all seemed to have their own unique spin on Dave Reeves' original design.

Currently, there is Hiwatt UK (Music Ground) with their dodgy reputation; Reeves Amplification of Ohio (no relation to Dave Reeves) with their stellar rep and Trinity of Canada making their versatile Triwatt. We have Mywatt, of Germany, with their very modern updated version and there is Ceriatone's cleverly named "Hey Watt". Finally, I discovered Hi-Tone, of Indiana, touting an exact recreation of the original design.

Each of these manufacturers has a great reputation for build quality and sound. Each manufacturer claims to use the highest quality parts available. Some of them had flashy websites, with videos of master guitarists demoing the wares. They all offer the obligatory Military Specification (Mil-Spec) wiring practices and advertise the use of premium cabinet materials and hardware.

At this point, my head began spinning because, I was about to drop some hard earned cash on a potentially shady, boutique amp builder and I still wasn't sure which brand would be right for me. I did the only sensible thing I could do: I joined Gearslutz and I started a thread to see what all the "Pros" had to say!


The thread was very interesting - everyone seemed to have had their own opinion!



So, after wading through all the hot air, smoke & mirrors and YouTube videos, why did I decide to buy a Hi-Tone?

I ordered my Hi-Tone for 4 basic reasons:

1) Hi-Tone recreates the exact circuit design as the original Dave Reeves Hiwatt.
2) Dave Reeves' son, Glynn Reeves is a member of the Hi-Tone company.
3) Mark Huss, electrical engineer, guitarist and well known Hiwatt-o-phyle, is also a company member.
4) Clayton, the Hi-Tone President and all round nice guy, has a long running obsession with vintage Hiwatts.

Towards the end of August 2013, I emailed Clayton a few questions and I informed him of my intention to place an order.
Surprisingly, he phoned back instead of emailing – a big plus in my opinion!
He patiently answered all my questions and a few hours later, I PayPal'd my purchase money to get the gears in motion. Five weeks later, my amp, a 1x15 and a 2x12 cabinet arrived safely, via FedEx. The amp and each cabinet was packed in a heavy duty cardboard box, wrapped in heavy plastic and suspended inside by thick, corner foam blocks. The Hi-Tone logo was printed on the outside of each box. The people at Hi-Tone certainly did not skimp on packaging.

Now for my product review…

Price Paid: US$1850.00 plus an extra US$250 for a custom, tube driven fx loop. US $675 per cabinet.

Features: The Custom 100 watt version has 4 input jacks which are linkable by jumper cable to allow simultaneous operation of both preamps. The Dave Gillmore version (that I purchased) has Normal, Bright and a third, Linked Input to operate both preamps simultaneously without the need for a jumper cable. There are separate input volume knobs for the Normal and Bright channels. The Bass, Middle, Treble and Presence knobs are followed by the Master Volume, Power Lamp, Standby Switch and Power Switch. My amp was ordered with NOS Mullards but, I skipped the Mustard Caps. The tube driven fx loop came with an imput volume knob. Bonus: the amp and cabinets came with heavy weight, vinyl covers with blue piping and embroidered, Hi-Tone logo patches.

Trial Run: There were more than a few rumors going around stating that, "a Dave Reeves amplifier (or clone) is a lot louder than any normal, production tube amplifier". Therefore, I decided it would be best to rent some time at the local rehearsal studio... I didn't want any disturbances while I was turning the thumbscrews on my new purchase! I brought along my 1984, P90 equipped, Gibson Les Paul Junior and a few fx pedals: Catalinbread WIIO, Univox Wah, ProCo Rat, Ibanez Tube Screamer, Boss Delay, and a Chorus but, I wound up using only the Wah and the WIIO.

Here are the results of my investigation:

1) Volume - The rumors about Dave Reeves amps being louder than normal tube amps are an understatement. My Hi-Tone was so loud that the gentleman working the studio's front desk had to stop by to make sure that my room's door was closed… yes, it was closed! My 100 watt Hi-Tone is freaking LOUD!!! But, what a sound!!! Totally AWESOME!!!

2) Tone - I'm not a professional amp reviewer and I'm not up on all the fancy tonal lingo but, I'll give it a go… The Hi-Tone is a clean amp (just as the original Hiwatts were) however, when the input volumes and master volumes are dimed out, the amp really flys! WOW! ... and I repeat, "What a sound!" There is nothing like a Dave Reeves amp and the Hi-Tone was not lacking in any area at all. I cranked out Summer Time Blues, Young Man Blues and Shakin' All Over – my Live at Leeds favorites. Then, I ran through my own riffs and tunes, tweaking the knobs every few measures.
I found my sweet spot fairly quickly but, I kept playing around with the knobs to see where it could go. The Bass, Middle and Treble knobs are very versatile and interact with each other creating a myriad of tones ranging from deeply bassy to crystal, glassy highs. The Presence knob added further clarity to cut through the bass. Unbelievable! Lots of low end with crystal clear highs and tight mids. Turn one tone knob slightly and the other tone knobs create new sounds making for nearly unlimited variations. The tone knobs cut and boost, allowing you to scoop the mids and add a thumping low - you can scoop and/or boost any where you'd like.
There was a surprising amount of low end that easily created that thumping E string that metal heads like... it's there if you want it but, I turned the bass knob down to a normal, classic 70's level.

3) Cabinets - The Hi-Tone cabinets are extremely well crafted - the Tolex and the piping were masterfully applied. The cabinets and amp housing both have quarter round bevels running along all the front edges, giving them a beautiful, classy look. They are solidly built. I have absolutely no complaints on their degree of craftsmanship – they clearly, will be able to take a beating.
Last August, when I ordered the cabinets, Hi-Tone was not advertising a 1x15 but, they were happy to build one for me. I love 15" speakers for guitar… they are a bit beefier and sound more substantial than 10" or 12" speakers.
Running the Hi-Tone 2x12 and the Hi-Tone 1x15 simultaneously, at a combined 4 ohms is literally a blast... tonally and volume wise! I believe that the Hi-Tone labeled speakers are rebranded Eminence of Kentucky speakers. They are perfectly matched for the recreation of the original Dave Reeves sound. While I never played through original Fanes, I couldn't be happier with any aspect of my purchase.

Final Impressions: It's really unfair to compare a Hiwatt or a Hiwatt clone to any other amp, except maybe, to an Orange. I typed out and deleted a comparison of the Hi-Tone to a Marshall - there was really no point leaving it in… their designs are too different to make any comparison useful. It's like comparing Ferrari to Tesla; both are great machines but, their designs are too far apart on many levels.

For Hiwatt enthusiasts, it's all about that natural, dimed out sound. That signature sound can only be produced by a quality, Dave Reeves designed amp. That sound is what makes an original Hiwatt worth every penny.
I purchased my Hi-Tone blind, without first trying it and without any knowledge of Hi-Tone's track record. I did my homework, took an educated chance on my purchase… and I hit the jackpot.

If you want a brand new, Dave Reeves Hiwatt, I strongly recommend Hi-Tone. You will not be disappointed in the least.