Pulse Code, Inc Modular by Stevism
Sound Quality
Ease of use
Features
Bang for buck
Overall:
I'll admit it, I'm a bit intimidated about getting into modular synthesis. No matter how much I think I understand synthesis, or how much I research modules and setups, or watch jams on youtube, I'm still scared. Not that I won't be able to get something musical out of a modular, but that I'll make the wrong choices early on and pay for it later. Modular is definitely not a cheap rabbit hole to dive in to.

I'd been on the lookout for a modular iOS app that tried hard to emulate its real-world counterparts, but all I could find were more esoteric "modular" synthesizer apps, designed to embrace the iPad platform rather than hark on the past.

That's all well and good, but it's not what I wanted. I wanted to be forced to work within the confines of the hardware paradigm, so I wouldn't be surprised when I moved from virtual to hardware.

And then this entered the app store...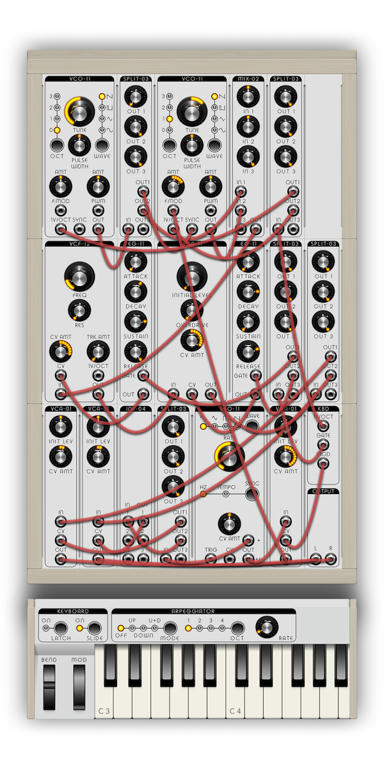 Finally! The app I had been waiting for! I downloaded it for *Free immediately.
Upon opening it, I saw to my dismay that free was too good to be true. A number of the modules are "locked" so that you can't use them / place them until you buy them. You can still use them within the confines of predetermined layouts and patches that come with the app, but what's the fun in that

? You can buy the modules as you go or a bundle price of $4.99, which I did immediately. I figured that price is something I would have paid for the app in the first place regardless, and considering the amount of functionality here, it's totally worth it.
I'm still a noob to the modular world, but from what I can tell this is most trying to emulate the "moog" format.
There are around 25 modules or so at this time, but I wouldn't be surprised if the app developers released more as time goes on. There are your basic VCOs, LFOs, Envelopes, and VCFs, but also some effects such as delay, ring modulation, and distortion. All of the patch points are readily available for you to use and abuse, even within the same module. There is a lot of exploration to be had, whether you're using two oscillators to FM each other, or creating a huge monosynth, with all its patching glory. Really, the possibilities are pretty extensive, considering it's price and form factor.
There are downsides, however.
First, the simple bugs that will probably be fixed soon (this is a very early release):
-UI bugs that make it hard to view certain parts of the screen. At times it will jump to a row you aren't trying to work on, and get stuck there
-Incoming midi has a ton of latency, and sometimes there is even latency from the keys on the keyboard it self. You might not be able to record in time with everything else going on, so you might need to adjust recorded tracks accordingly.
-Once, I had apparently driven the FM too hard. The app responded by completely taking the fm mod out of the patch, which is extremely confusing if you're just starting out in modular synthesis and you're trying to keep track of the signal path. I saved the patch and restarted the app, and the frequency mod worked again. Definitely something up with that, not because of an incorrect parameter setting
-Midi keyboard has a tendency to hang notes here and there, but not the worst thing
Second, I have to admit the sound quality just isn't that impressive. They do what they are supposed to (when it comes to modulation, etc), but it sounds a bit lifeless. I presume this is because of the lightweight nature of iOS, as well as all of the unexpected calculations that modular synthesizers can have. The filters all sound particularly weak, something that is really a shame. If they only choose to update the performance of one subset of modules, it should really be the filters.
But let me stop rambling....
FORGET ALL THAT TEXT READ THIS!
Pros:
-cheap
-very informative
-tons of provided patches that highlight how to use each module, as well as how to create certain types of sounds
-each module has it's own "information" section that painstakingly details what it can do and what each element of it means
-very easy to save patches and load them up later on. a huge advantage of software in general, but it's done rather nicely here
-addicting
Cons:
-a bit buggy right now, both in user interface and sound output.
-sometimes the app will NOT let the user view a part of the screen, rendering it useless until you restart the app
-sound quality is just not up to par with other more advanced virtual synths, filters especially
-Limited to rack space provided (as far as i can tell), prevents really crazy setups
-Midi is sluggish and unusable
-Keyboard is a bit dodgy
Bottom Line:
Every iPad owner that has a remote interest in synthesis should have this app. You could do fine without the optional modules, but for $4.99 you can't go wrong with them either. This app is an excellent way to start wrapping your head around modular synthesizer concepts, and begin to understand how the signal flow works. The fact that it's a touch screen means that patching the virtual cables and tweaking the virtual knobs is pretty natural.
Get it, try it, and enjoy it!
All sounds are from the modular iOS app...
-arp
-bass
-kick
-snare
-lead
really just tweaked the presets a bit and added some effects. I played the lead on the keyboard on the ipad, which lead to some issues.
External effects used as well, on everything except the kick.