elysia xpressor 500 by disjunction
Sound Quality
Ease of use
Features
Bang for buck
Overall: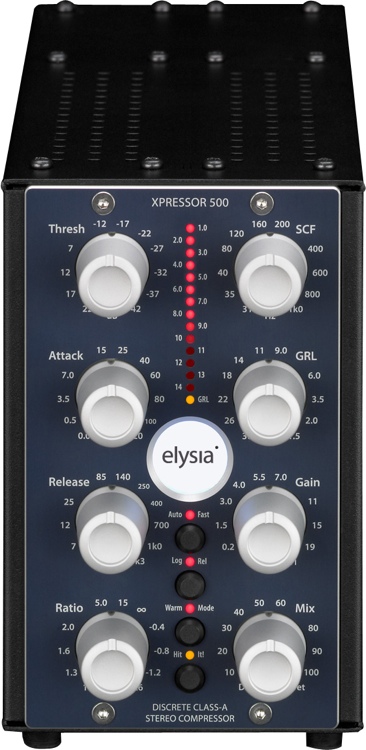 For some time i have been distantly interested in the 500 series format but it wasn't until Elysia's Xpressor 500 was released, that I saw a tool that would fit my workflow and budget. With this, i went out an bought myself an API Luchbox 6b and a Xpressor 500 to install into it.

The Elysia Xpressor is a stereo dynamics processor in API's 500 series format. The processor boasts a wide range of useful controls that are tastefully squeezed onto the front of dual slot 500 series unit. The unit employs the same smart design aesthetic as Elysia's other products but the similarity doesn't stop there. The unit implements a number of features from Elysia's Mpressor and Alpha processors as well as unique feature of it's own.

'Auto Fast', When engaged is a circuit that will automatically shorten a programmed attack setting when loud transients hit the threshold. this allows you to set along set and still catch those transients. pretty handy on complex signals like the 2buss. Limiting not enough for you these days ? Elysia have included the addition of the ability to effect the gain of the compressor into negative ratios, effectively lowering the output signal depending on how loud the input signal raises over thee threshold. Not just compressing but turning it down. This is fairly useful in extreme effect style processing. The unit sports an analogue dynamic LED meter. It's essentially a clever way to display additional gain reduction information with a limited number of LEDs. The brighter they are the closer they are to the marked value.

Some features exclusive to the xpressor 500 (and xpressor 19") model are the Gain Reduction Limiter. This feature provides the opportunity to compress material deep in the mix while still allowing louder material to pass without incurring additional compression. Again this is handy on complex stereo material. A tuneable internal side chain filter (low cut) is available for limiting what material from 31hz-1Khz influences the compression This great for maintaining bass in material that needs some serious squashing. A switched slew rate limiter is available in the form of 'Warm' mode I found this to be quite subtle on all except very aggressively processed material. Unlike the elder siblings of the Xpressor, Only the Audio path is class A. A good compromise on size and cost i would say.

With the modern feature set mentioned above, the Elysia Xpressor 500 shapes up as one of the versatile stereo processors to grace the 500 series. There is certainly plenty of scope for dialling in something that matched ones needs. This is essentially the strength of the Xpressor 500.

We all know that no amount of bells and whistles will fool us when it comes down to sound. So how does it sound?
The Elysia Xpressor 500 is essentially a clean sounding compressor. While warm mode can successfully impart some colour so to speak. This is not where it's power lays. It doesn't have a particular colour that could be considered as it's 'claim to fame'. Where it excels is in it's ability to perform all kinds of dynamic tricks that most 500 series stereo buss compressors can only imagine. More importantly the user can be creative and make the Xpressor 500 work for them. So in that sense it sounds great. I've happily run Synthesisers, Bass, Drums and final stereo mixes through it and have had no issues making it work for me in those situations. I have processed lightly and aggressively and find good results either way. Having said that Drum buss processing is where I really enjoy using it. It's fast and bites hard when it's needed. Overall a good and somewhat surprising start in my 500 series Journey.