19th November 2019
Super Moderator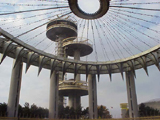 Yes, I that's how I approach my mixes. Everything has to have its place. Each instrument or sound is in its own pocket or married to another sound like the balance between the KDez's vocal and horns section in the bridge.
I love recording and mixing live performances. It's how I like to do it in the studio too. I'm not an overdub "guy." I mean, that's what your assistant supposed to do.

Not sure if you noticed, but each video has a different visual style (look) and cut to them. I never repeated a visual effect and I did my best to find the right motivation or motivating force when I conceived and created these music videos. One of my favorite videos out of this series is the simplest cut, yet very moving, if I do say so myself.
Yeah, that natural fade out in the end is raw and real for sure.
Thanks for chiming in.
Quote:
Originally Posted by
Arthur Stone

I like the balance between the female vocal and brass/horns in the bridge; also the mix separation between the horns. The rest is first-rate too - like everything has its place.
The live performance definitely adds something extra that is missing from a lot of over-produced music; I think this 'live' style will be increasingly popular.
All good. Entertaining. The song fade out on the solo vocal keeps it all real and personal.