7th November 2008
Super Moderator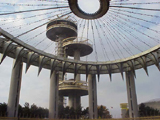 Herbie Hancock Lights It Up At Newport
---
The Aura-Sonic crew and I had the pleasure to capture the 2008 Newport Jazz Festival.
Our live music mix from the festival was originally broadcasted on NPR & WBGO during the August 9th & 10th dates.
Jazzset with Dee Dee Bridgewater is featuring a few tunes from Herbie Hancock and Dave Holland. It launched yesterday on NPR's website and shall air (radio broadcast) this Sunday, 11/09/08 at 6pm, EST and next Wed, 11/12/08 at 6:30pm. EST. I had a chance to remix these tunes before the air dates. As we all know, large outdoor festivals with no sound checks is not a Remotester's favorite situation so, it goes without saying that I'm happy about the remixes.
Here's the main page for this show:
Herbie Hancock Lights It Up At Newport : NPR Music
Newport Jazz 2008
Clink on the media player to listen to this performance.
We captured many more artists; Some of the artist will also be part of the PBS television special airing shortly. I'm considering starting a new thread to discuss and show some photos from this awesome event.
Check out some of the many pictures we took during this two day event.
We can get into the technical side of things or whatever may interest you about this gig.
Let me know what you folks think.