10th January 2004
Super Moderator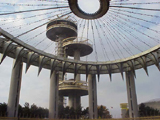 WBGO / NPR -- "Toast of the Nation" NYE 2003 Broadcast Report
---
Aura Sonic handled the Herbie Handcock Quartet / NYC origination of the WBGO / NPR's "Toast of the Nation" New Year's Eve Broadcast. It was available across the USA, internationally and on Sirius Satellite Radio. More on the other locations later.

Instead of working a 22+ hour day on December 31st, our NY producer, Josh Jackson decided to setup and soundcheck everything the day before. We were all very happy about that. We parked, powered and setup the truck on West 3rd Street and broadcast position in the basement of the club.

Truck power tied into the club's main AC panel. Our 52 channel snake ran to the stage. We had two additional snakes that ran from the truck to the broadcast position. One snake handled all line level stuff like the stereo mix via our main and backup feeds. We also provided a mono mix of the show for the broadcast position's intercom unit. The IFB channels needed program. We also ran the return lines from both Codecs in that same snake, keeping all line level feeds organized.

The other (A/V) snake handled all communication and video feeds. A video DA on the truck fed the video signal from our remote pan/tilt/zoom camera (in the club) to the producer and technical director at the broadcast area. A third (A/V) snake was home run from the b'cast position to the host position next to the stage. Comm, IFBs and the master time clock output via a BNC connector in the snake. An ESE digital clock was placed by Herbie. He viewed the exact time of day for the accurate NYE's toast at 12 AM EST.

We had two completely independent stereo mixes coming from the console. The stereo mix buss went to our main Codec. I assigned busses 7/8 as our backup stereo mix to the Zephyr. Each stereo feed went into individual DAs for total backup confidence. Transformer isolated feeds from the two stereo mix DAs went to the Codecs, CDRs, DATs and a Speck ASSIGN 28 matrix mixer. I used the Speck to feed both Codecs plus create a mono mix for the IFBs. I also fed two independent tone oscillators into the ASSIGN 28 -- we ran signal continuity tests with the b'cast position and NPR in DC without bothering Duke Markos at the console. A separate Wohler AMP-2A audio monitor system was used to monitor the matrix mixer. Not all mics were split. Herbie's engineer didn't want to use our groovy mics, so we doubled up on many channels. Duke picked some really cool mics to use.

We had three ISDN lines to NPR in Washington, DC. The Musicam Prima was our main Codec. A Telos Zephyr was our backup. We bonded two 128 ISDN lines running 256 -- Layer 2 on the Prima. The third ISDN line was used as our backup Codec running 128 -- Layer 3.

Everything worked out perfectly on all levels. That was due to excellent global teamwork!

JazzSet / WBGO's Becca Pulliam was spectacular, making everything go as smooth as silk. NPR's Ben Roe and WBGO's Cephas Bowles & Thurston Briscoe make sure we have "Toast of a Nation" every year. NPR's Joyce MacDonald's Marketing staff gets the word out to the stations, with Jeff Nemic designing & updating the promotion on nprstations.org. WBGO's Katie Simon called and emailed each radio station. Sharful Islam of WBGO and Paul Schomer of NPR designed the cool web pages.

Rolando Arrieta was our NPR producer this year. Rolando & Co. in DC and Duke Markos Audio here in NY pre-produced promos, "Toast of the Nation" minutes, funding credits & forward promotes (voiced by Lisa Simeone); updated the Marian McPartland 85th birthday (Shari Hutchinson & David Lyon of SCETV); The Tribute to Ella from the European Broadcast Union (Dee Dee Bridgewater and John Clayton et al) and the rebroadcast of the 2002-03 Count Basie Orchestra in Chicago. Rhonda Hamilton did the voice overs. On 12/31 director Petra Mayer and studio engineers Chris Nelson and Neil Tevault were on hand.

Due to Matt Abramovitz, we were on Sirius Satellite Radio. Jeff Rosenberg at NPR, got us on NPR Worldwide.

Kevin Wait ran the technical side of the show with help from Leo del Aguila in the West, Bob Weston in the Midwest, WBGO's Brian McCabe in NY, and Daniel Shukhin at the Kennedy Center. Jane Holmes setup the ISDN/POTS lines and watching over them.

Derek Gordon, Kevin Struthers and their associates at the Kennedy Center handled the beautiful opening music from Cedar Walton and the Timeless All-stars. Suraya Mohammed produced and Mitch Eaton handled the music mix.

In New York, Michael Bourne hosted the show during WBGO's 25th year anniversary party at the Blue Note, while NEA Jazz Master Herbie Hancock gave us "I Love You," "Dolphin Dance" Then Michael & Katie Simon led the midnight count down exactly. "Maiden Voyage!" was the first tune of 2004. Herbie's quartet included Gary Thomas, sax; Scott Colley, bass; Teri Lynne Carrington, drums. Josh Jackson produced, Duke Markos mixed the music with assistance from Yujin Cha. Jon D'Uva, Robert Carvell and myself rounded out the crew for Aura Sonic. The WBGO party was handled by Cephas, Rich Tedesco and Paula Maliandi.

In Chicago, Richard Steele of WBEZ hosted the show with the trio (Laurence Hobgood, Rob Amster, Frank Parker, Jr.) "Easy Living"-ing underneath. Kurt Elling gave us 75 minutes of transcendent music, with special guests Stefon Harris on vibes and Ed Peterson on tenor. Dayna Calderon produced; Timothy Powell of Metro Mobile mixed the live music. Dave Jemilo (owner of the Mill) did the countdown, as directed by stage manager, Meredith Ries.

In Denver, Carlos Lando (PD of KUVO) was the host. Mike Pappas, music mixer, was the one who found the actual Shemekia tape and had half an hour of Shemekia Copeland in Mountain Time. There was a little Jon Cleary & the Absolute Monster Gentlemen at the close. All this music came from the KUVO Performance Studio (prerecorded) and was made into a 45-min. segment by Duke Markos.

KCSM music director Chuy Varela hosted the West coast timeline. Poncho Sanchez and his extraordinary band (David Torres, Tony Banda, George Ortiz, Sal Vasquez, ******* Aguilar, Scott Martin, Francisco Torres, David Urquioi, Larry Sanchez assisting) and fabulous guests Joey DeFrancesco and Fred Wesley performed. "DaaHoud" (Joey), "Conga Blue" (Fred), "One Mint Julep," "Auld Lang Syne!" and "Out of Sight" (the current CD title), and more. They closed with Herbie's "Watermelon Man." Njemile Carol Jones produced the show with Phil Edwards & Company as always, handling the music mix. David Shih and Julie Johnson from KQED completed the team.

Like Becca Pulliam said to us, "Toast of the Nation is truly a treasure, a giant collaboration among people who don't see each other, a feast of music, a huge achievement (11 hours this year), we have something wonderful here, and it will be interesting to try to better it for 2004-05."

I'm grateful to be part of this wonderful production venture. Here are some pics of our NYC crew. Some of us are missing from these photos.