6th February 2006
Moderator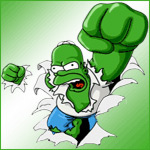 The Rules!!!! Everyone Read Before Posting!
---
Please read this entire thread before you post in this forum....These rules have been added to and amended over the years, and it is still a work in progress.
If you are new to GEARSLUTZ,
this is a place to talk about gear (particularly pro-level gear)
.... not about the Top Ten MC's of all time, or who is the best producer ever.
Please keep to the subject of GEAR
(mics, pre's, EQ's, compressors, DAW's, and techniques, etc.) whenever possible. If you are new to engineering, sometimes it's better to read and lurk on the site for a while before posting.
So, to recap.... The name of the site is GEARslutz. We are here to talk about GEAR... and the use of the GEAR (which includes the process of making music with GEAR, tips using the GEAR and techniques USING the gear)... whether it's the use of a mic, a guitar, a keyboard, a preamp, a plugin, an MPC... or help with finding the right piece for anyone's given situation, or other advice. It's all gear related.
It's not a place to gossip about Scott Storch being broke, to promote a myspace page, a blog or a soundclick page, to discuss every hip hop song or album that comes out, to gossip about artists, or to post classifieds ads, etc.
If you want us to check out your music, please post your mp3's in this section....
Mp3 upload - Work in progress / advice requested / Show & Tell / Artist showcase - Gearslutz.com
... or this thread:
https://www.gearslutz.com/board/rap-h...ix-thread.html
If you want people to check out your MYSPACE, please post a link in this thread....
https://www.gearslutz.com/board/rap-hip-hop-engineering-production/92734-put-your-www-myspace-com-link-up.html
Please DO NOT start a new separate thread in the forum showcasing your music, unless it is a gear test. Meaning you want to show off the sound of your gear(new mic pre, etc) rather than the music.

DO NOT START A THREAD WITH THE FOLLOWING TOPICS:
1.
What keyboard or patch did "X" producer use for "X" song.
It's OK to talk about what producer uses a keyboard, but do not start a new thread asking which preset was used for a song.
2.
Check out my myspace, soundclick, mp3, etc....
There is a thread at the top to post your music in, please use this to show off your tracks and do not start a new thread.
3.
How much can I charge for my beats?
... The answer to that is simple, whatever you can get for them.
4.
Anyone check out X artist's new song or X producer's new beat
.... we aren't a hip hop music debate/ critique site. There are other forums for that... go there to discuss those types of topics.