27th December 2006
Moderator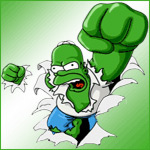 SSL DUENDE & WAVES SSL DEATHMATCH ROUND #1
---
Well, I've seen a lot of threads regarding the Duende and Waves SSL plugs. Some of them seem to be so heavily biased in one way or another that I had to do a comparison for myself. OK, so I am probably the most anti-DSP box guy there is. So, the SSL Duende was already at a disadvantage, because I am biased towards completely native solutions. But, I think I'm going to hang on to this box because it definitely brings something different to the table...
From one night of playing with Duende, I have to say I like the compressor more than the Waves/SSL. It has a +/-20 db threshold range as opposed to the +/-15db on the Waves... that alone makes it better to me! Also, note that the ratio's are different. The Waves gives you 2, 4, 10:1; while the Duende gives you 2, 4, 20:1. The compressors are fairly similar in sound, though. But, identical settings sound different... you have to play around a bit to get them to sound close to the same.
So let's talk about the EQ!

The EQ's sound very different from each other... I don't have a preference just yet. But, they are EXTREMELY different sounding. I'm actually quite surprised at how different, and was shocked at first. They also have totally different frequency choices on the high and low bands. 30-450hz on the Waves, and 40-600hz on the Duende. The high end differs even more: 1.5k-16k on Waves, and 1.5k to 22k on the Duende. Gain ranges differ as well.... +/- 20db on the Duende and +/- 15db on the Waves. The "E" EQ on Duende has a different character that is quite noticeable from the standard EQ. Especially in the mids. Duende seems smoother, but you push it a little harder to hear the same kind of changes. It's top end is definitely more pleasing and smooth. I ran some program material through it, and found the Waves to give me a bigger bottom end without much work. But, the highs were harsher. In comparison, the Duende low band needed a few more db of boost to get the same kind of thump. But, the highs are much smoother, and can boost up into the airy frequencies up to 22k. The Waves seems to be a more dramatic EQ, where slight changes make a bigger difference, and it's easier to over-do it. The Duende is more forgiving and while you seem to have to push it a little harder, there is also a wider boost/cut range to take advantage of.
All around I think the Duende EQ is smoother, while the Waves is a bit more dramatic. The Waves is like a sledge-hammer, while the Duende is like a boxing glove... They both will do the job in the right hands, but one is through finesse, the other is just pulverizing.
The channel compressor I haven't done much experimentation with yet.... But, it sounded pretty good to me. Maybe I'll play around with the channel compressor a bit tomorrow if I get a chance..
So, even though Duende uses a hardware DSP box, I still think it's worth it. But, I'm not getting rid of my Waves SSL plugs. The EQ's are so different to me that I can find a use for both of them. But, I'll probably never use the Waves SSL compressor again. Unless, I really need the 10:1 ratio. One thing you will never be able to do is set these plugins the same and expect them to sound similar. With the same EQ settings they vary so widely that it's not a valid comparison. The Waves will sound better with small boosts made because it's more of a jackhammer, while the Duende will sound better with bigger boosts/ cuts.
Duende is a boxer who finesses the opponent to a K.O.
The Waves SSL is a sledgehammer that knocks you out in one punch. But, it's easy to go too far and destroy things.
I'll update this after I try the channel compressors!