15th September 2016
Moderator Welcome Éric Mouquet
---
For our next Q&A we're very happy to present and welcome Éric Mouquet, co-founder of the band Deep Forest. This Q&A will only be open for one week from saturday the 17th, so please post your questions now?
You have probably heard one of his more popular songs at some time, as an introduction I'll try to give a brief overview of his extensive carreer:
At the end of 1991 Éric met Michael Sanchez. Both musicians came from the Douai region in the North of France. Eric was writing, producing and playing rhythm & blues style music with Michel on the organ. While having dinner together, Eric suddenly heard a strange chant on Michel's tape deck, which later became the vocal on "Sweet Lullaby".
Their idea was to fuse modern studio technology and synthesis with ehtnic music, such as traditional Pygmy (recorded by the
ethnomusicologist Shima Arom
) and Melanesian melodies (traditional chants from the Solomon Islands (recorded by a research team from the
Musée de l'Homme
in Paris). Michel Sanchez had made an extensive study of ethnic music, and the duo would use the ethnic recordings of the Musée de l'Homme and the collection of the record label
Ocora
.
Then, they used modern dance rhythms as well as traditional percussion, and made new compositions using synthesizers, creating a new and original music. When in may 1992 the debut single "Sweet Lullaby" was released (Colombia Records, Sony Music) is was very well recieved and topped the charts. The chanting featured on the song was from the Solomon Islands. The album, also released in 1992, sold over 1.5 milion copies and went gold in France, the UK and Norway, and platinum in New Zealand, Australia and the USA. It was also featured in many TV and radio advertisments as a backing track.
"Sweet Lullaby" was
remixed for dancefloor
use and in the explosive creativity of the early nineties electronic dance music, it was an instant dancefloor hit. It was produced by
Dan Lacksman
(a former member of Telex).
In 1994 Deep Forest was nominated for a Grammy award in the category "Best World Music Album"
The next project of Éric and Michel was the 1995 album "Bohême" for which they researched traditional folk music from eastern europe. Extended phrases had been sampled from Hungarian, and Russian. Hungarian singer
Márta Sebestyén
and
Kate Petrova
performed on this album. It was rewarded with a Grammy award.
Deep Forest performed live for the first time in 1996, at the (in)famous G7 summit in Lyon, France at the closing ceremony, in a collaboration with the
National Orchestra of Lyon
. I didn't find any recording of this but did manage to find some pictures of the soundcheck:
They embarked of a world tour that took place over the following years, visiting Australia, the USA, Tokyo (1998), Hungary and other countries in Europe, with a 2 hour long show.
In an article from Sonic Magazine (April 1993) Éric and Michel discussed plans for a world tour: It should include 3 keyboard players, an african vocal choir, drummer, bassist, percussionist. They'd use a sequencer only to run in some effects and to run the Roland RSS with the timecode so that they can recreate some of the spatial effects on Deep Forest.
The third album titled "La Comparsa" was released in 1998 and was influence by traditional Caribbean and in particular Cuban rhythms. (The title refers to spontaneous parties that happen on the streets of Cuba.) Guest stars to work with them on their new 13-track album, included Cameroonian singer Wes, Spanish star Ana Toroja and the Syrian musician Abed Azrie.
The duo also performed and produced the remixes for the Youssou N'Dour single "Undecided" in 1994, with guest vocals by Neneh Cherry.
Éric and Michel then produced the soundtrack for the motion picture "Le Prince Du Pacifique" by director Alain Corneau in 2000.
The next album
"Music Detected"
in 2002 was a departure in sound, it focussed on rock music with guitars and drums:
They produced the soundtrack for the movie Kusa No Ran, yet another shift in direction. It was released in Japan only.
Other soundtracks include music for "Prêt-à-Porter" ("Martha"), for the movies "Strange Days", and "The Island of Dr. Moreau".
In 2005 Michel left Deep Forest, to persue a solo carreer as Singer. Both Éric and Michel had worked on solo projects before. Éric then produced the albums "Deep Brasil", "Deep India" (with Rahul Sharma), "Sing with the Birds" (2015) and "Deep Africa". Here is two videos from that period:
And two from 2015:
And a slutty picture.

Also noteworthy is Éric's collaborations:
For one he composed and produced songs for Josh Groban on the album
"Closer"
and the album
"Live at the Greek"
. The songs are "Remember when it rained", "Never let Go",
"Mashine" (Herbie Hancock playing Rhodes, Vinnie on Drums and Nathan East on Bass Sourire) and "Awake".
A percentage of proceeds from Deep Forest's debut album sales went to the Pygmy Fund, set up to aid the Democratic Republic of the Congo's pygmies in the transition from nomadic to agrarian subsistence, and to provide appropriate health care. A portion of the proceeds from 'Boheme' go to the György Martin Foundation, which aids in protecting the Roma (Gypsy) culture of Hungary. Deep Forest also actively supports the Sana Madagascar Association starting with 'Comparsa'. "The aim of the Sana Madagascar Association is to contribute protecting the environment, to collect instruments and precious recordings in order to allow the Malagasy man to save his culture, his nature and his traditional music."
Fast forward to 2016, Éric released a new album called "Evo Devo" through his own website, in which he makes extensive use of modular synthesizers and his Waldorf Wave.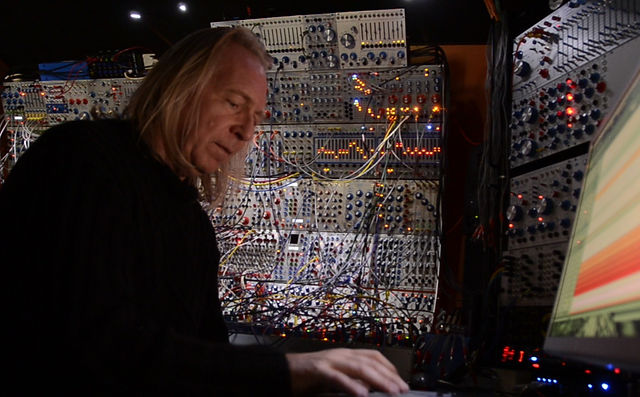 Éric just came back from some live performance in Bulgaria and Ukraine.
I couldn't find any pictures from this performance.
Also check out Éric's Soundcloud page:
https://soundcloud.com/eric-mouquet-deep-forest
Welcome Éric to the Q&A!