20th October 2013
Gear Head

FluffyAudio AURORA - 2 DAYS LEFT for INTRO SALE! exclusive REVIEW by D.Rosen
---
After several months of development, it's with extreme pleasure that we're proud to release
AURORA
, a collection of multisampled cinematic sounds integrated in a powerful engine for Kontakt 4.2.4 (and above). AURORA features
pads
,
soundscapes
,
keys
and
rythmic percussive
patches through the use of its powerful arpeggiator. This is our point of view on the
cinematic scoring tools
formula and it is much more...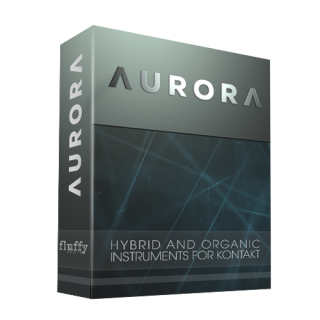 Aurora - Teaser - YouTube
Working in conjunction with
Dream Audio Tools
, we've built a custom
semi-modular engine
inside Kontakt that allows the user to enable various modulation sources on different parameters, to customize every sound as you would do in a classical synthesizer, but with sampled sources as waveforms.
Featuring an extreme powerful interface, designed by Magnus Hornqvist, AURORA has an internal browsing system where you can load up to 5 different sample sets, organized in several categories. The interface is built to present just the relevant info on the sound you're working on, to minimize confusion and to get back to music in an instant.
Feature list:
4.2 GB Sample library
(compressed in Kontakt's NCW Format)
3.227 Samples
(44Khz/24Bit)
162+ NKI Presets
More than 150 unique sound sources (multisampled instruments)
Build your unique patches by
layering up to 5 layers
of sound sources
Total control over the sound sources
Arpeggiator
and
Polystep
modes
13 different modulators
avaiable for complex sounds that can change at specific time intervals or on user's input.
Synced Delay, Step Modulator and LFOs
5 different modulation shapes for LFOs (SINE, SAWTOOTH, TRIANGLE, SQUARE and RANDOM)
Unique chain of custom effects
Atmospherizer effects
18 unique Convolution IRs
AURORA is
OUT NOW!
.
Introductory offer (valid until 31th October 2013):
€ 125,00 / $ 169,00
(after the 31th, price will be € 149,00 / $ 199,00)
More info on our
site
Here's a snapshot of the interface: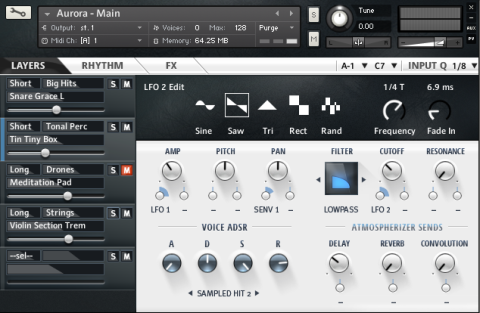 UPDATE: We've added a brief video about making soundscape with AURORA
AURORA: Atonal soundscape tutorial - YouTube
And some demos of our library
Soundcloud page