21st April 2008
Mu Technologies - Mu Voice 1.1.2/1.2 - Free demos
---
Mu Technologies releases version 1.1.2 and 1.2.0 of Mu Voice. Live demos are available on the brand new YouTube channel. We present our updated website and new trial policy.
If you haven't heard of our plug, it's a real-time low latency vocal processor for studio use and live performance. It does FX, tuning, harmonizing and much more with minimal effort. And best of all, it is fully native (no extra DSPs) and CPU-friendly.
If you're tired spending time editing pitch curves for tuning, shifting and harmonizing, or need somthing that is genuinely real-time without off-line preprocessing to take on stage, you probably want to check this out.
Mu Voice 1.1.2
The main change in version
1.1.2
is that we now support a wide range of sample rates:
44.1 kHz - 48 kHz - 88.2 kHz - 96 kHz - 176.4 kHz - 192 kHz
Mu Voice 1.2.0
At last! The MIDI-enabled version, version
1.2.0
is now available. This version gives you full control over Mu Voice from a MIDI keyboard, featuring:
key selection
chord recognition
preset selection
chord scheme navigation
configurable for any type of keyboard from 24 to 88 keys.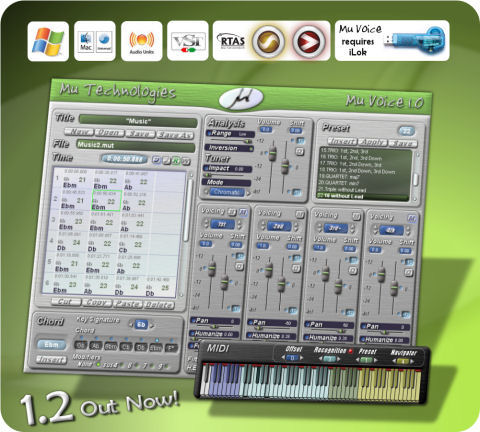 Take it on stage!
The new release makes Mu Voice an excellent tool to perform live in a real-time host like Ableton Live or Apple Mainstage. To see this in action, Mu Technologies has its own YouTube channel now
YouTube - mutechnologies's Channel
New License Policy
The new releases do not come with a default trial period any more. Potential customers that wish to demo are invited to apply for a
15 day trial license of version 1.1.2
at
www.mu-technologies.com/demo
Version
1.2.0
is exclusively for licensed customers. After purchase customers can upgrade automatically.
Price (VAT Inc.):
$279 / 239€ / 189£ / 39900¥