21st May 2019

B-5 Organ V2.5 Update, a few fixes and two new organ models.
---
We just released the Version 2.5 of the B-5 Organ, this new version contains a few internal fixes and optimizations, but more importantly, we added 2 new organ voicings.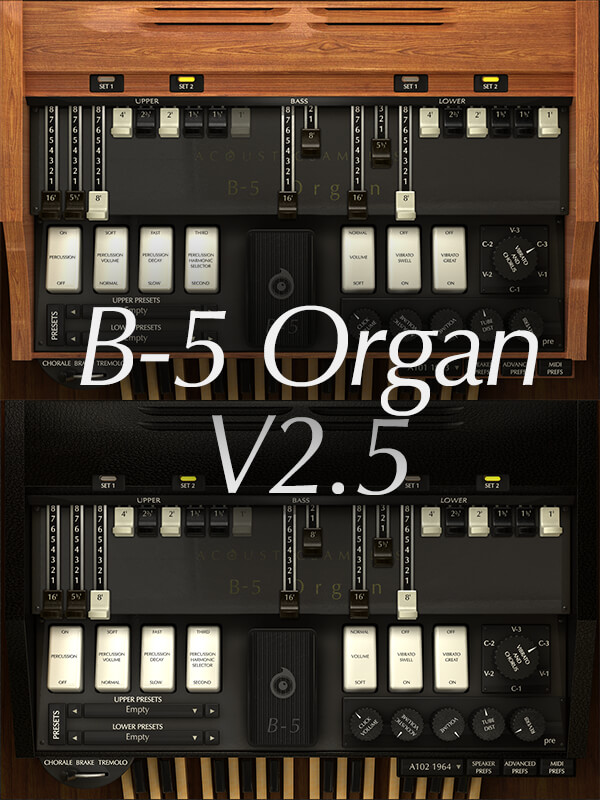 Fixes
- There was in some very rare cases stuck tonewheels happening when using the preset keys, this should be fixed now.
- The percussion volume drop was happening on the non-percussion presets, it's not the case anymore.
- There are a few other internal fixes and improvements that were released since the V2 as silent updates, like the addition of a few organ controllers or the DI volume that you can mix with the microphones.
New organ models
Thanks to our friend Joe Doria, we were able to add a very good sounding A101 from 1963. And while we were at it, we decided to also add the organ we used for the videos, a chopped 1964 A102 bringing the B-5 to a total of 6 very distinct Organ models.
A101 and A102 organs are exactly the same as A100 models, only the type of wood (and the legs for the A101) changes. There are more audible changes between years that are mostly electronics and different adjustments to them which explains why these models all sound different.
Here is Joe testing different features of the B-5 Organ, and then another one with more serious playing mixed with drums!
https://www.youtube.com/watch?v=i6OAlKfDYTQ
https://www.youtube.com/watch?v=s8j-PngcHiw
If you already own the B-5, then this "update" is
FREE
, here are the steps to get it:
1- Log into your account and download the new file from the download page (the file B-5-Organ-v2.5-EDC.rar)
2- Update UVI Workstation or Falcon to the latest version (this is important).
If you don't already have it, the B-5 Organ V2 is still at the same price (99€ / $109) and you can learn more about it and get it from here:
www.acousticsamples.net/B5