14th July 2019
Gear Maniac

Inexpensive 5.1 DTS/AC3 hardware decoder?
---
I would like to acquire a simple hardware decoder for AC3/DTS 5.1 so I can easily analyze the audio mixes in my blu-ray collection. Basically, I just want to listen to the audio on my blu-rays but feed it into my analog mixer, ride the faders, and treat the audio on the blu-ray as if it's a multitrack recording (which, of course, it is).
Theoretically, this $15 eBay decoder should fit the bill: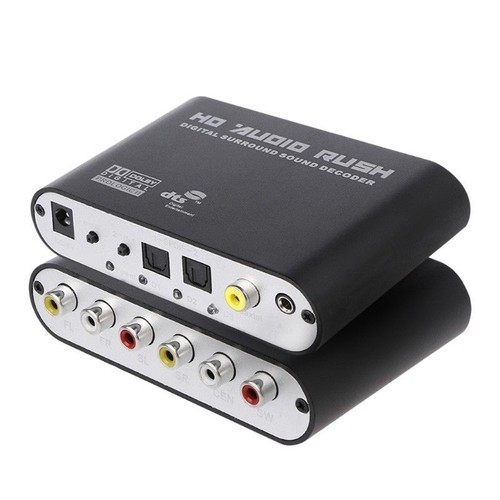 However, after ordering two of them from different sellers, I've come to the conclusion that this unit is useless. Both units exhibited the same unfortunate behavior: when I feed the digital signal into the coaxial input, the center channel output is EXTREMELY distorted (we're talking hard clipped, square wave distorted) as soon as the channel gets moderately loud. The other channels don't exhibit this behavior as far as I can tell.
Unless there's some sort of impedence mismatch, I don't think the problem is on my end; I tried running a direct box after the center channel output and taking it down 40 db and then feeding the signal into my mixer...and it's still really distorted. The distortion appears to be happening within the unit itself, before it gets to the output.
Any suggestions on a hardware decoder just like this, except that it actually works well? Cheaper is better. I'm not looking for an audiophile piece of gear -- just something that splits out the signal and plays it back acceptably well as line level outputs.