19th January 2012
Seeking out a VST 'clipper' (?) plugin
---
I'm just trying to find a specific plugin for cubase that helps me reduce transient attacks to the same level, do you know what I mean?
this is a snare drum track that i'm looking to trigger with slate trigger. it's a bit of a pain controlling all the different peaks though - without any compression I want to reduce all of the peaks from where the red lines are to where the green lines are so that the harder snares are reduced to the lowest hit. Just simply cutting off the the tops of the louder ones (that exceed the green line) and reducing them to the same volume as the lower ones...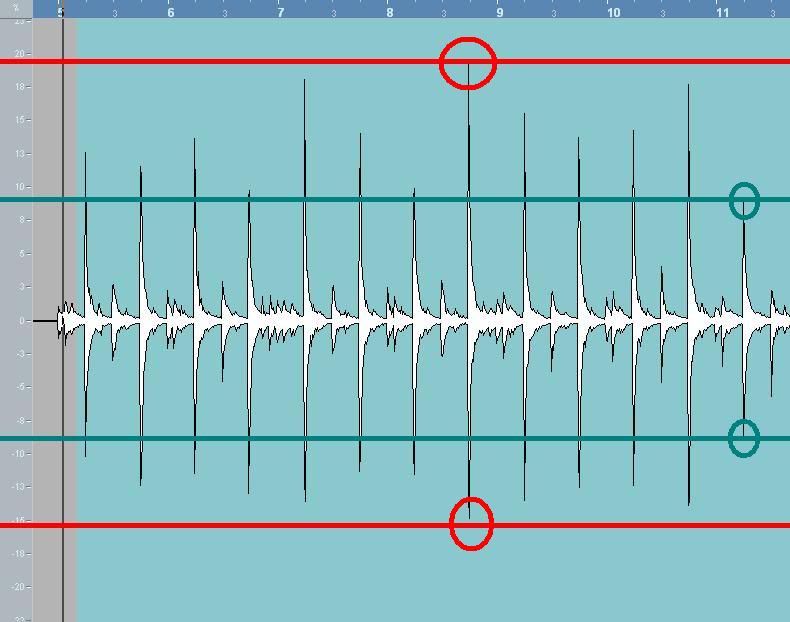 I've seen a screenshot of a plugin before, universally named a 'clipper' or something, and the plugin showed the waveform like the picture above and you could choose what level to cut off the transient attacks, with no compression involved. I've tried doing this with a limiter and it doesn't really cut it, it just makes the whole track quieter or horribly compressed
(I hope this is making sense, I'm a little off when it comes to audio lingo)
Please help as this would help me immensely.
Thanks,
Geeorj