3rd December 2018

Decomposer releases free drum sampler Sitala 1.0 Beta
---
We proudly announce the release of the first beta of our drum sampler Sitala.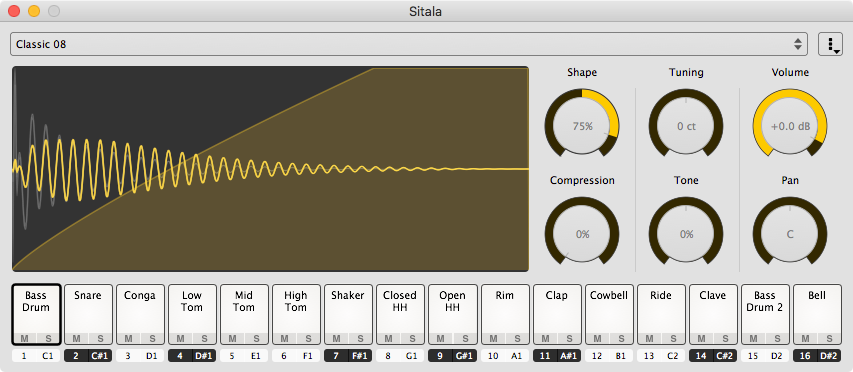 Sitala's beauty is its simplicity:
its six knobs allow you to quickly explore the sound space and dial in just the sound you had in mind.
Controls:
Shape: Adjust attack, length and sustain of your sounds while the overall volume remains constant.
Compression: Make sounds punchier with more sustain. Automatic gain makeup maintains the overall volume while changing dynamics.
Tuning: Pitch sounds up or down by up to one octave.
Tone: Emphasizes the highs or lows in a sound. Accentuate or scoop the mids to position the sound in the mix. Adapts based on the pitch content of each sound. Operates as a high-pass, low-pass, sweepable mid-boost or mid-scoop EQ.
Volume
Pan
16 Assignable Pads:
Velocity sensitive.
Assignable trigger and kill groups.
Mappable with MIDI learn, sequential notes or General MIDI.
Drag in single sounds, or use multi-drag to set entire kits at once.
Each sample is analyzed for dynamics and pitch, and the controls are automatically adjusted to have a wider effective range and more musical expressiveness.
Audio Engine:
Selectable stereo output or 16-channel one-output-per-pad.
Standalone, VST and Audio Unit support.
Available for Windows (64 and 32 bit), MacOS and Linux as Standalone / VST and AudioUnit. Download (for free) here:
Sitala - Free Drum Sampler Plugin
We are keen to hear what you think!