3 weeks ago
Gear Head Psychedelic Tunnel T1 - Unique sci-fi reverb / 3D spatial ambience generator plug-in
---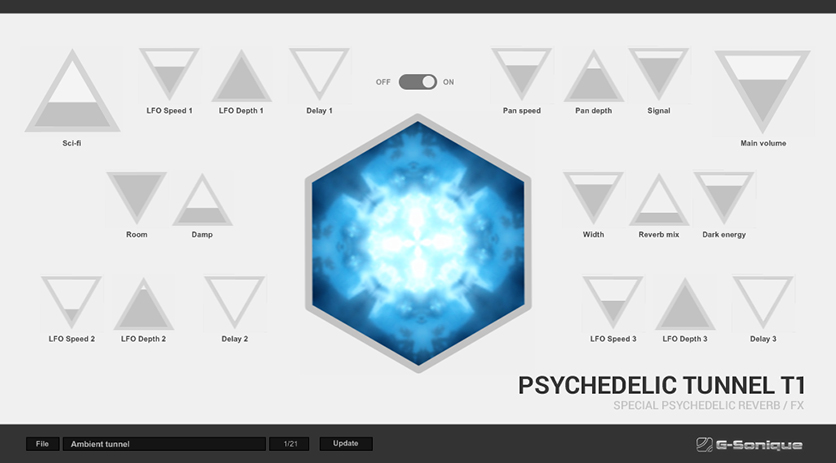 https://www.g-sonique.com/psychedeli...rb-plugin.html
Forget all the classic reverbs you know. Psychedelic tunnel T1 is not reverb, it is brand new algorithm of psychedelic space design which can totally recreate
incoming audio, make new type of sounds or place your synths to unique three dimensional psychedelic environment.
If you want to make your synths sounding like they are travelling thru universe or place them to magic portal you don't have to be cosmonaut or shaman.
Psychedelic tunnel T1 is VST x32 / x64bit plug-in for various styles of music: from psytrance, progressive, chillout, dub, to tech-house, minimal, hitech, house,
techno, electro, deep drum and bass, experimental, film music and many other genres.
T1 works perfect with synthesiers, FX sounds, pads / soundscapes, as well as for effecting individual drums like snares in film music or ambient.
TOP Features:
- Sci-fi parameter control: to add some science fiction to your sound.
- Dark energy control: to add DARK mysterious energy of antimatter to your sound + one octave detuned copy of reverbed signal.
- LFO1, LFO2, LFO3 modulation of "Space" signal.
- LFO depth, LFO speed control.
- Delay of LFO modulated signal (there are 3 separated "space" signals).
- Space signal generator with:
- room size control, - damp control, - width control, - reverb mix control.
- Panning modulation (Pan speed, Pan depth).
- Signal knob (to mix magic signal in).
PRODUCT VIDEOS:
DEMO DOWNLOAD:
https://www.g-sonique.com/demos.html
PRODUCT PAGE:
https://www.g-sonique.com/psychedeli...rb-plugin.html