3 weeks ago
Lives for gear AudioThing Frostbite 2 - Spectral Freeze, Ring Mod, Feedback
---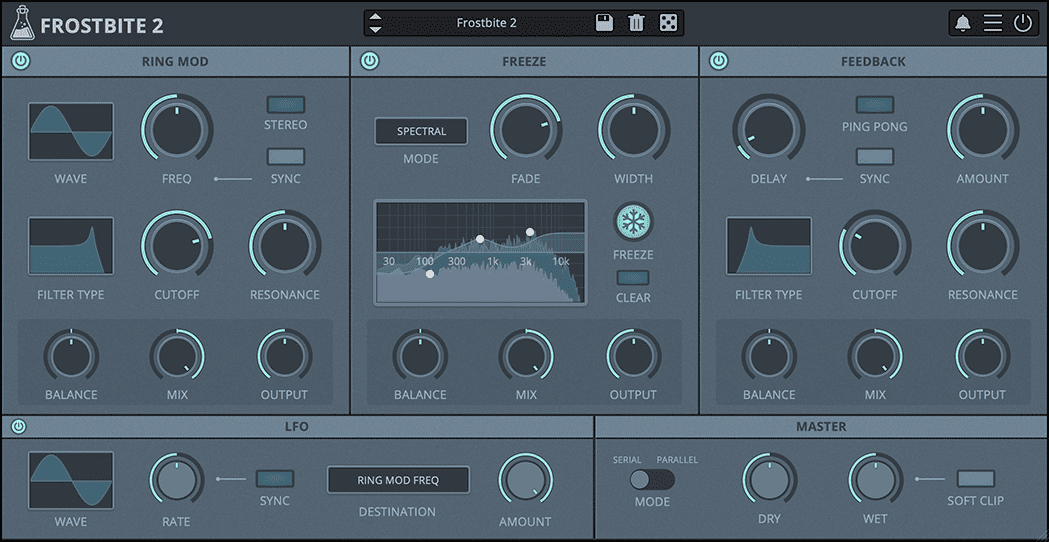 We have finally released Frostbite 2! This is a paid upgrade.
If you want to upgrade, please
login to your account
.
Frostbite 2
is a
spectral freezing plugin
combined with a Ring Modulator and a Feedback module. With the three freezing modes (spectral, reverb, convolution), you can transform any sound into ambient textures, soundscapes, or just
frozen
reverbs.
Frostbite can also be used for
extreme sonic experiments
by entirely mangling any source with extreme modulations.
The Signal Flow is flexible, you can rearrange the modules with a simple drag-and-drop, and selects between the two modes: serial and parallel.
With the internal LFO you can modulate most of the parameters on each module, creating evolving eerie soundscapes.
Details
Intro Price: $39/ €39 (full $59 / €59)

Upgrade Price: $9 / €9 (login to upgrade)
Freeze (Spectral, Reverb, Convolution)
Ring Modulator
Feedback
Flexible Routing (Drag and Drop)
1 LFO with multiple destinations
70+ Presets
Resizable Window
Preset system with randomizer
Formats: VST2, VST3, AU, and AAX (64bit only)
Minimum Requirements: OS X 10.7, Windows 7
Drag and Drop

You can rearrange the modules with a simple drag-and-drop to change the signal flow.
Youtube:
https://www.youtube.com/watch?v=8Vyav6NiCPc
Soundcloud:
https://soundcloud.com/audiothing/sets/frostbite
Product Page: http://www.audiothing.net/effects/frostbite/