15th April 2019
Here for the gear Pulsar Echorec: Enlarge your Delay
---
Hi guys, you don't know us yet, but we've been making plugins for 15 years, having worked for the synth geeks from André the Giant's hometown and for your favorite bacon lover !
Our name is Pulsar, our mission is to put into bankruptcy every other audio plugin company and to rule the world with the help of our reptilian backers !
However we're a little late with our thought-controlled mastering plug-in, so in the meantime, let us introduce our first real product, Pulsar Echorec, a reproduction of the Binson Echorec 2 magnetic-disk delay.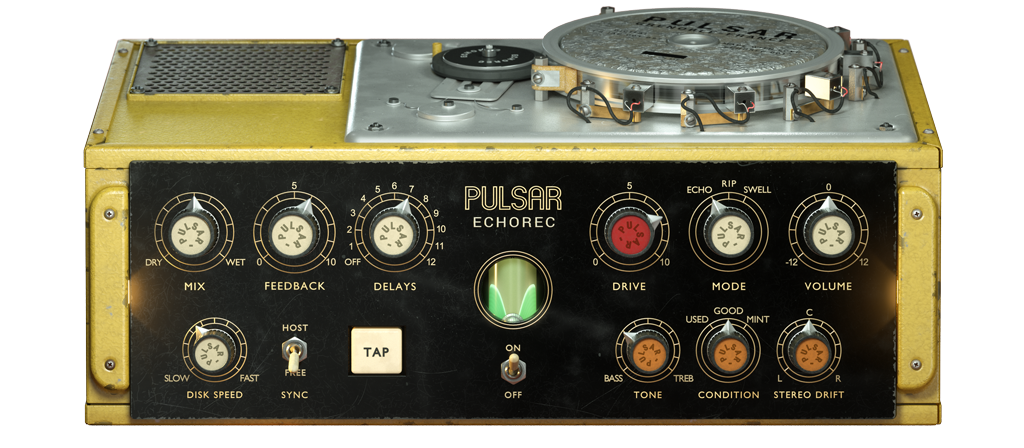 The Binson Echorec 2 is a famous magnetic disk delay from the 1960s, used by Syd Barret, David Gilmour, Jimmy Page....
We have devoted a lot of effort to achieve a faithful emulation of tube circuits. In addition, we have reproduced the sound of the magnetic disk very accurately. Is is extremely warm and at the same time distinct from the sound of magnetic tape.
We have also added several new features:
The Stereo Drift parameter adds spatial width
The "Off" mode gives you the sound of the tubes and magnetic disk without delay, in order to use the plugin as a saturation tool.
On the hardware, you could slow down the disk temporarily by pressing your finger on it; we have also added this feature on the plugin to allow creating nice modulation effects.