15th July 2018
Lives for gear

MAnalyzer: tuning for best accuracy
---
EDIT: Wanted to add that I've since come across this video which addresses some of the questions, though others remain:
While I had assumed that tuning for maximum accuracy would be a rather straightforward cpu tradeoff, this doesn't appear to be the case, and I'm scratching my head about a few features in particular.
SUPER RESOLUTION MODE
The manual says:
Quote:
Super Resolution Mode activates a special processing algorithm, which provides high resolution even in the low frequency spectrum. Using standard FFT algorithms you can increase the FFT size to get better bass resolution, but this also slows down the response. Super-resolution mode keeps the quick response in high frequencies as they are naturally quicker, but also highly enhances the bass spectrum resolution. It requires additional CPU power
Sounds straight forward, and the video shows it as being a quick fix that just provides more accurate low frequency results, but in using it, I've been shocked at how different it is... sometimes causing 10dB swings in the low end, and there's the rather obvious issue of the tilt:
Pink noise with Super Resolution mode DIS-engaged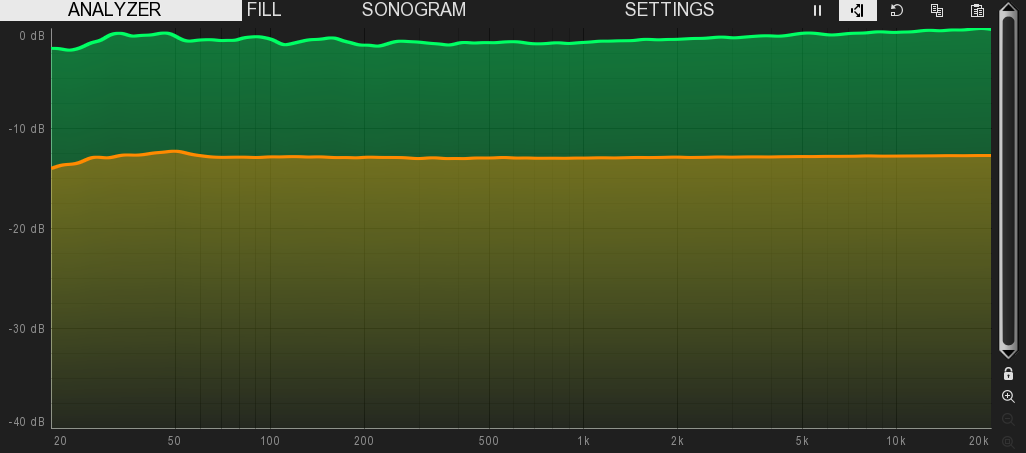 Pink noise with Super Resolution Mode engaged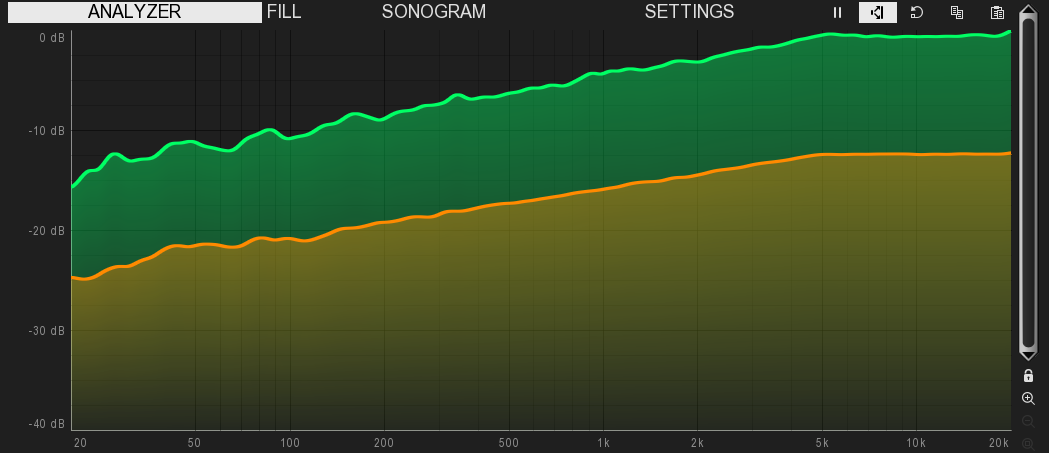 Green is peak, orange is average, and both graphs on a 3dB per octave slope, so the pink noise should be essentially a straight horizontal line. It is with the SRM disengaged, but WTF is going on with it engaged? There's a very obvious tilt going on there... and unless the pink noise generator in Logic is broken, it's just not correct.
It's actually MORE perplexing on actual material. Here's a snapshot of a song. Again, green is peak, and orange is average.
Actual song, SRM DIS-engaged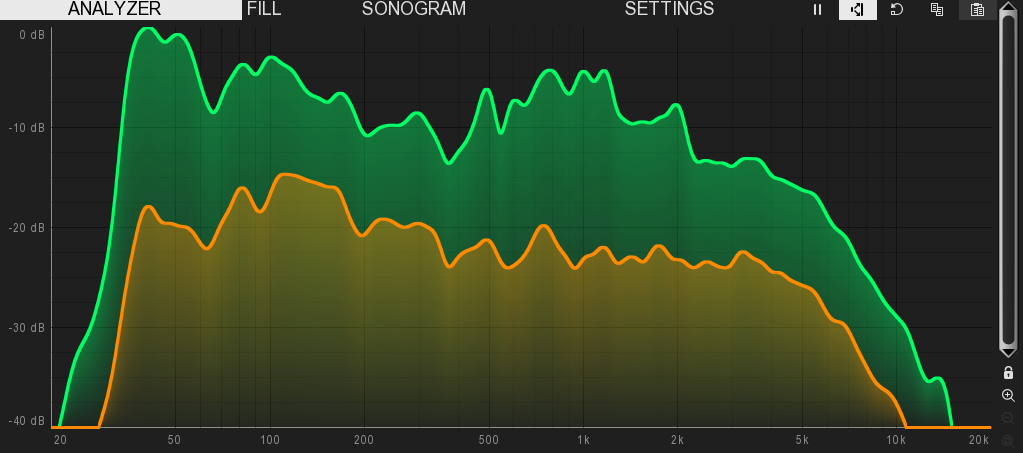 SAME song (believe it or not) with SRM engaged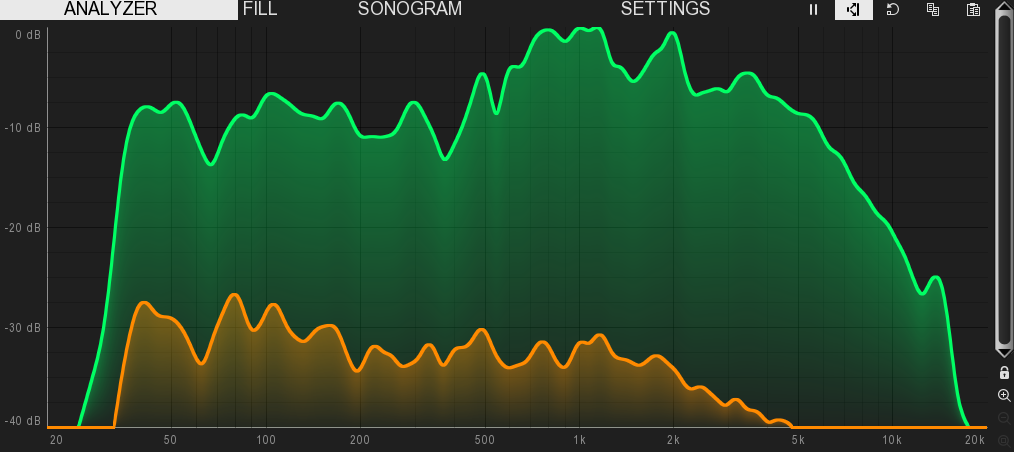 Look at those peaks in green. Yes, it's the same sample. What's going on here? Is there some other setting that must match, are the SRM results garbage, or am I missing something?
ANALYTICAL SMOOTHING
The manual says:
Quote:
Analytical smoothing switch activates a more complicated smoothing algorithm, which provides more accurate results, however it may require much more CPU power. Unlike normal smoothing this method doesn't change the proportions of frequencies with higher magnitudes. It is useful mostly for technical analysis and for most musical signals it is often better to use the default smoothing method.
Again, it sounds at first like a straight ahead compromise between accuracy and CPU consumption. I'm fine with that, but which is it? If it provides more accurate results, then why is it often better to use the default method... or is this just referring back to the CPU issue?
The video clarifies a bit about it not diminishing harmonics like the typical smoothing does, but again, I'm not exactly clear whether the comment about it being better to use the default is only about CPU, or about something more meaningful like our perception not taking the harmonics into account the way analytical smoothing does.
Again, the goal here is accuracy from the perspective of human hearing.
TIME RESOLUTION
The manual says:
Quote:
Time resolution improves the time resolution, but lowers the spectral resolution. This is typically useful for more scientific analyses, where the signal is moving quickly and you need to follow its movements quickly. This is often advantageous for sonograms with very high FFT sizes.
OK, so maybe I just need this at zero. I would be interested, tough, to hear from anyone who has it set differently that can share why they are using this control, and how it increases accuracy for their intended task.
WINDOW TYPE
The manual doesn't even attempt to explain this one, but basically says leave it on the default (Hann) unless you have a specific purpose for changing it. That's fine. Melda is full of stuff that's just got more controls that are needed for any given task. Love that. The video touches on it briefly, though I still see no particular reason to use anything but the default.
Really just out of sheer curiosity, and since I'm already here asking other related questions: Who's using this in other modes, and why?
---
Last edited by Ain't Nobody; 16th July 2018 at

04:46 AM

..