31st July 2015
Finally! My perfect little Waves SSL Channel Strip control surface - total cost $75
---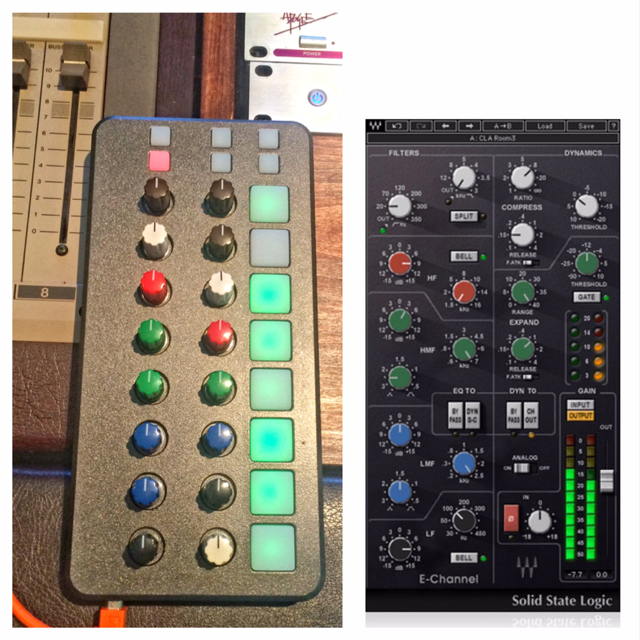 I've wanted something like this for a really long time, but nobody made one so I got creative. For me, trying to EQ with a mouse (and looking at a looking at a graph of my supposed eq curve instead listening) is probably one of my biggest frustrations with mixing in the box. The Waves SSL is one of my main, goto plugins that I use on most channels, and have for a really long time.
I took a Novation Launch Control, bought some replacement knobs, spray painted it, and turned it on end. I was patient and found a new, unopened launch control on ebay for $50. $15 bucks for some replacement knobs, and $8 for some nice spray paint.
I have all the buttons on the channel strip programmed in. The white knob on the lower right is the input trim, then the EQ section is pretty self explanatory, and the top three brown knobs are the compressor section. I don't use the gate so I'm fine with not having knobs for those.
I use Logic X and it is working great! Probably my biggest frustration was not realizing I need separate user template "pages" for the mono and the stereo version of the plugin. Not a huge deal though. So I have four "pages" mapped on the control surface that I cycle between to change between based on the plugin that I'm using. The mono and stereo versions of the SSL channel, and the mono and stereo versions of the API 560b paired with a 2500 compressor.
That's all I use it for right now and am super happy with it.
Thought I'd share since I know I've seen a lot of outcries for something like this.