23rd March 2009
Super Moderator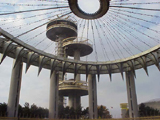 What's on your digital camera?
---
More times than not I bring along my Canon Power Shot S80 digital camera to take pictures of the various production ventures we are involved in. At times I have plenty of time to take all sorts of detailed pictures and sometimes I don't, but in any event since there is plenty of space on the SD media I keep my favorite shots available to see whenever I want.

I figured I'd start a new thread showing off all the photos I stored on my camera's SD card.
I trust others will follow suit and show off their digital camera shots.

So, I'm going to start off with a gig we did back in 2006 for CBS Sports.
These photos are from the 88th PGA tournament at the Medinah Country Club in Medinah, Illinois.

The Bread Mobile was there to handle the sound FX capture for the back nine holes.
TBM had anywhere from six to nine mics per hole and that didn't include any talking head mics or playback.

We were one of five audio CRMs that handled this event.
One handled the front nine FX; we handled the back nine FX.
There was a CRM for the front nine commentator mix and one for the back nine.
The HD truck's audio CRM received every one's mixed feeds and handled the 5.1 and 2.0 mixes.


If you have any questions or thoughts just let thyem rip!