27th January 2007
Mastering Moderator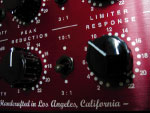 Quote:
Originally Posted by
RainbowStorm

I have made a top 10 - list of contributing ingredients:

1. Close high quality miking, low amounts of distortion
2. Efficient input gain + amplification
3. Efficient compression/limiting
4. Low monitoring volume
5. Few elements in the mix, tracked in mono
6. Minimal overall track volume and EQ reduction
7. Hi-mid frequency boost
8. Using delay instead of reverb
9. Reducing high peaks with track fader automation
10. Hi-resolution summing engine
I'll add my slightly different take just for fun (and exemplifying different points of view

in general for the original poster). Your example might well apply to the bands and genre he mentioned RainbowStorm, I am not disagreeing here at all.
1. Distant miking is perfectly acceptable if you have a good space and know/learn how to move around (and that is basic tracking 101)
2. Gain staging: that is a foundation to both tracking mixing and mastering and you won't get anywhere without it
3. Compressing and limiting for a reason and IF you can hear it. This does not only apply to mastering but to mixing too. If your monitoring chain (D/A, amp. speakers, room) doesn't let you hear it........you're in trouble down the line.
4. Yes but that depend in no small measure from the room and the speakers employed (too long to discuss it here). Think about how the balance is affected by different listening volumes when using different speakers (selaed box, reflex, TL, hybrids and so on) in you room (Size, shape, acoustic properties etc)
5. Stereo tracking is perfectly acceptable. Know the basic stereo tracking techniques ad experiment an tweak them according to your space and the specific recording/production you are working on.
6/7. Eq in the mixing stage might cause phase shift, how audible, plesing or crap it sounds is for you and your ears to judge. Get things right or as close to right as possuble at the source and then don't worry too much aand use it creatively.
8. Reverb is much nicer when it is "tracked" get it from the recording space (if possible)
9. Hands on "dynamic controlling" or compression is always best (a PITA but hey......)
10. What you arent tracking to 827s and mixing through a board? heh
Only joking on this one..................