2nd April 2020
Lives for gear The Old Computer Thread
---
Hi everybody
,
In the NIN thread it became apparent that we might like a specific place to talk about Digidesign's Turbosynth, a piece of software from the late 1980's that gave users some serious synthesis & sample mangling power for the time. It wasn't real time, and it had to calculate and then preview the patch...but today you could multisample it at a few pitches, or throw pre-generated wavetable into your favourite piece of software.
Turbosynth still has a use today in sound design, and I will be posting about it more once I receive my 1994 PowerBook. Here is a video showing off some spooky Turbosynth sounds:
However, for my inaugural post, I'd like to talk a little bit about the Amiga (pictured above).
I am very familiar with the Amiga, having owned several throughout my life and now have a totally-pimped A500+.
The Amiga has many musical uses. It's sound chip, capable of playing back 4 hard-panned mono 8bit PCM channels (wonderfully crunchy) has a hidden crossmod feature between channels (you need a machine code program, which I can provide on request, to turn it on) and clever software can even permit real-time synthesis.
Here's an interview with it's designer:
If you have an Amiga and want to dip your toes into an early softsynth with drawable waveforms and LFO, then Aegis Sonix is a safe bet, it's not the most exotic (I have a lot weirder Amiga synth recommendations should you want them) but I sounds nice and will run on an unexpanded machine. There's also a VST version:
Now, if you want
out there
, then I would like to point you to a site so obscure, that I only found one reference to it on the web:
Lowengard Software
.
The Amiga can sample sounds with the appropriate cheap equipment, and there exist a few programs that can actually do real-time effects to your source audio. Yes, a 68000 doing real-time effects at 8bit, 22.5Khz. It's as awesome as it sounds.
There's a coverdisk program called "TREG" which offers some of the grainiest, most naive delays and reverbs I've ever heard, it's beautiful...and you can really mess them up if you run that secret machine code script

but Henry Lowengard, well, he's a genius.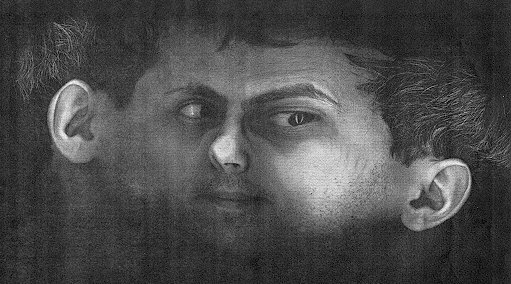 https://www.echonyc.com/~jhhl/software.html
His software includes HARM, which is a depraved real-time stereo pitch shifter and I quite like it on guitars, his demo here:
https://www.echonyc.com/~jhhl/Mp3/Ha...20Feedback.mp3
"I went on the air on WBAI-FM on Jan 11, 1993 at the graveyard hours of 1:30-3:30 AM and HARMed listener phone calls. The phone lines were quite jammed."
Also on his website are a sonogram painting program...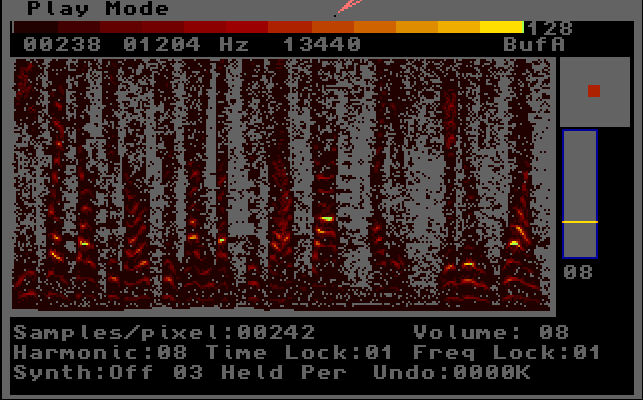 ...a MIDI Autoharp, and BITE, an "audio travesty program."
Which messes with speech recordings ala Eno/Byrne's "Mea Culpa".

So I'd check out his website and listen to some of the demos if you're into weird and whacky sound design.
Feel free to add any old computer music-related stuff to this thread, it could include personal anecdotes, videos, pictures or links about early computer synthesis, soundchips, trackers, sequencing, whatever, as long as it features an old computer.
I have some ideas for future posts, so hit me up if you'd like to hear about any of the following:
- ZX Spectrum sound tricks,
- Acorn's MUSIC 500 synth for the BBC Micro,
- Yamaha Music Computers.
Thanks
---
Last edited by xanderbeanz; 2nd April 2020 at

09:39 AM

..