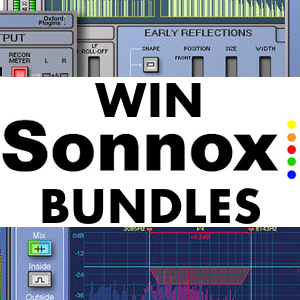 Gearslutz.com have teamed up with our friends at Sonnox for the chance of winning some really great plug-in bundles. Enter your name and email address below and one could be yours!
Sonnox is a market-leading company devoted to designing innovative, high-quality audio plug-ins. Their award-winning plug-ins are used by professionals worldwide for mixing music, film, television, radio and live sound and have earned a trustworthy reputation for their top-notch processing, uttermost precision and intuitive graphical interfaces.
Enter to win one of the following prizes:
Sonnox Elite Collection - Native
The Sonnox Elite plug-in bundle is an incredible and cost-effective way to get all of the premium Oxford plug-ins. This ultimate collection gives you the full-range of all seven Oxford plug-ins - EQ, Dynamics, Inflator, Transient Modulator, Reverb, Limiter, and SuprEsser.
Sonnox Essential Collection - Native
The Sonnox Essential plug-in bundle gives you a crop of must-have mixing tools at massive savings. This high-end plug-in collection includes Sonnox's acclaimed Oxford EQ, Oxford Dynamics, Oxford Reverb, and Oxford SuprEsser - all the ingredients you need to polish your mix.
Sonnox Enhance Collection - Native
The Sonnox Enhance bundle includes the Oxford Inflator, Oxford Transient Modulator, and the Oxford Limiter - three simple-to-use, but incredibly powerful and loud plug-ins.