 #1
29th December 2012

29th December 2012
Lives for gear Joined: Apr 2010
Location: Honolulu/Cincy
Posts: 1,321
Thread Starter

How do I address this 40-80hz dip? ...and, is it my biggest problem??
---
Some REW graphs...HS80m's with stuffed ports and some slight EQing.
...and my room layout. There's actually more bass traps now, just haven't added to the pic. The ceiling is about 11' high and I do have a ceiling cloud (not visible).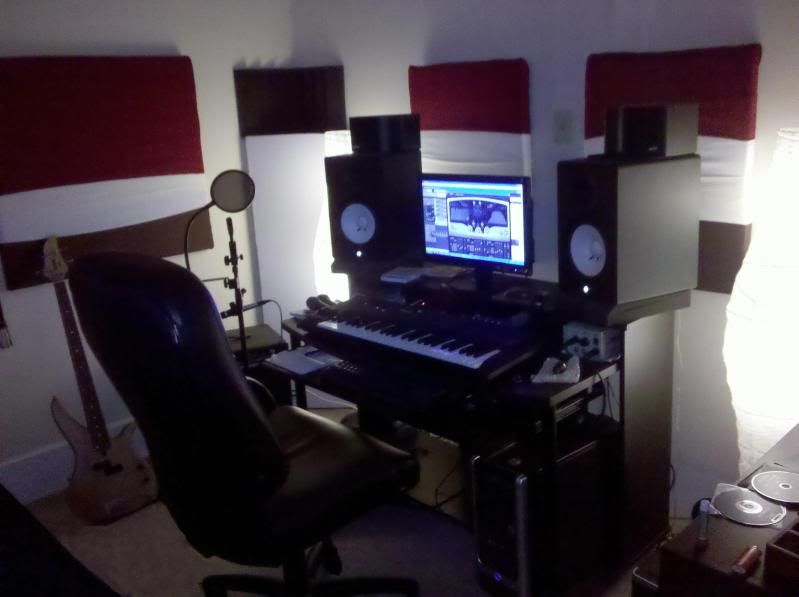 I don't have much room for any more broadband bass trapping, and I know A LOT would be needed to address that 40-80hz dip. Should I build a 60hz tuned trap and widen its q with some fluffy inside? Someone else said that I should just be happy with these results....
I'm sure that 225hz ringing is electrical/computer related, right? Tips on squashing that?
Regarding the 6.5khz dip, just a simple nudge of the mic could remove it, but then cause a dip somewhere else probably. Not even sure HOW to resolve/measure high freq issues as mic placement seems to trump all.
Any ideas on how to tackle this stuff (and if it's even worth it) would be greatly appreciated! I'd like to go back to mixing, just hate mixing when I feel like I could be "cleaning" my room more.
THANKS!!!
__________________
C6.5 . W7 x64 Ult . Custom Intel i5 3750k . 8GB DDR2 . EMU 1212M . GAP Pre 73 . UAD1 . HS80m's . Presonus HP4 . Yamaha KX49 . Shure SRH840 . Equation RP-22x . NI/IK Bundles