1st post here! Hello everyone, I hope you can help me out with this "weird" idea...and I really hope you get what I want to say with my terrible broken English. I'm an amateur musician from Cyprus and my fav. hobby is to spend my all my money on audio equipment, instruments etc

Before I go on to the "problems".. Yes! I've been reading and researching for the solution
and what's best for me but still.. I had to make a thread before I buy anything ...
What I need
: A Soundproofing Vocal booth where I can SING for practice without annoying neighbours with my terrible voice and last but not least.. RECORD my vocal tracks.
After a long long and painful research here on Gearslutz I came to the point that "Soundproof" and "Record" it's like Mission Impossible!!! Every Pro Member here said
"Go for a Room treatment, small booths and closets are really hard to get a good sound in." Yes! I get it and I'm going to treat that room when I get that extra cash.. but still.... acoustic room treatment doesn't mean "a super soundproof room". I want to get as much as possible noise reduction so I can scream at the top of my lungs without annoying anyone.
So here's what I thought...
I will "sacrifice" my long narrow rectangular hallway which is 85cm wide and 2.50m height. Also ceiling height is pretty high 2.85m. In case you are wondering .. Yes... there is a second entrance door to that room.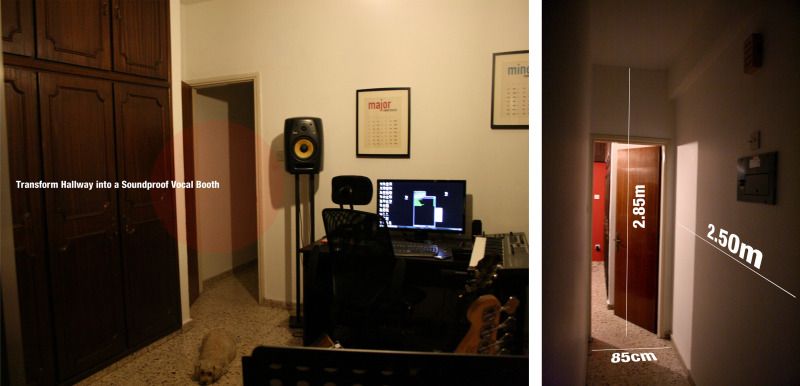 What I'm planning to do:
I will place a plasterboard-wall high up to the ceiling. This way I will have something like a closet instead of Hallway. Then.. I need to fill it up with Auralex products. That was the only brand I found here in my town; I'm going to get them from here so I don't have to pay extra money for shipping.

What I want from you:
Where to place that "plasterboard wall"? In other words. How big is the right "big" for this kind of vocal booth? 85cm x 120cm? Make it longer? 85cmx180cm? Longer means extra Auralex products.. BUT if its for the best I don't mind... What about the ceiling height?
What kinda of Auralex products I need? (for Floor, Ceiling, Walls, Door)
Is it possible to get a good noise reduction (70-80%) plus a GOOD sounding booth for recordings? Am I asking too much?

Thank you so much in advance and you deserve award if you make it that far with my broken english