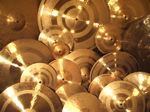 #1
22nd September 2005

22nd September 2005
you won't ****ing believe this
---
unreal...

I was on a plane 2 days ago coming back from ireland to london, I had my ipod on, and switched it to a new track (Gorecki..you'd think it would be safe...) it froze and became completely unresponsive, but the screen remained on and it started whirring ominously... the plane was just about to take off, and I was trying to turn it off to no avail!!! This was only slightly irritating as I had a tedious flight to look forward to now..BUT.. it got a lot worse.. I put it in my pocket and thought no more about it for a few minutes until I noticed a very warm sensation in my jeans... It was getting hotter...and hotter...and HOTTER, I started to smell burning and immediately got some ice from a stewardess and packed it in a plastic bag around the evil device!! It was seriously hot at this stage, luckily the ice helped and it burnt/shorted itself out...

I'd had it four days......

I have no idea whether the battery actually would have combusted or exploded, but I'm glad I didnt get a chance to find out, especially on a flight....

anyone else had this shit?