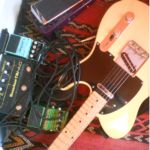 #1
9th February 2007

9th February 2007
flatter, smoother dynamic/condenser for overdriven elec gtr?
---
(Perhaps this is more a "low end" question actually)

Any favourites?

I notice a lot of E609 lovers here. Am I right in saying they don't make them anymore? Is the 906 comparabe?


Has anyone tried the newer/bigger/better/shinier SP B1 on gtr amps?