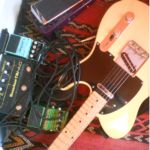 #1
8th February 2013

8th February 2013
Stacking pedals that have dry blend eg 2 x Tube Screamers?
---
What's been your experience?

I wouldn't necessarily stack 2 Tube Screamers, but I do have TC Nova System that has a TS style OD.

I also have a Digitech Bad Monkey, and a Source Audio Multiwave Distortion... which is the Mutts Nuts as far as creative distortion goes. Loads of gain if you want and a programmable clean blend.

I've stacked both the above with my TC and it generally works really well for rhythm parts, especially if the amp is not totally clean... Nice and punchy, just on the edge of breakup so there is some compression - doesn't always work for lead though.