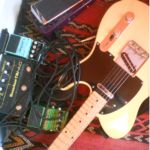 #1
20th July 2011

20th July 2011
C12A for toms
---
Hi Eric - I note you like using these for Toms - quite an esoteric choice!

I have only ever seen/used one in my life on vocals, and acoustic guitar, I'd describe it as a fairly neutral mic with lovely clear top end.

What do you prefer about the C12A on Toms as opposed to the "usual suspects"?