11th February 2013
The INSPIRATIONS ReFill - 64 Combinator patches
---
123creative.com – RELEASES
The INSPIRATIONS ReFill
The product contains Combinator patches that produce a range of different synthesizer sounds. The core of the patches are internal Reason devices - SubTractor, Malstrom and Effects. The 64 Combinator patches are divided into the four categories - Keys & Synths, Leads, Mods and FX. All eight Combinator controls + modulation wheel in every patch are programmed. This gives you a total control of the most used and effective parameters of the sound. Due to this programmed controls, the timbre can be shaped drastically.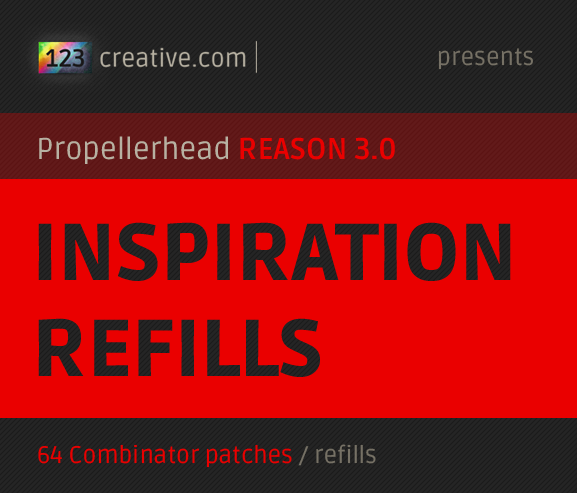 Features:
- File formats:
.rfl
- Requirements:
Propellerheads Reason v3.0.4 or higher.
- Total:
64 Combinator patches (Keys & Synths, Leads, Mods and FX)
Regular price: 23,90 €
Limited introductory price (discount 25%):
17,92 €

Please visit
www.123creative.com
for more info.