 #1
13th January 2010

13th January 2010
A new VST reverb for Windows - Verbera - Bollywood demo
---
Ok, it says self promotion here is ok, so here we are.
Verbera is a new
VST
reverb for
Windows
.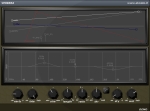 It is algorithmic, while it is different from the classic ones (feedback based).
Great for natural sound.
Includes an internal sidechain system for dynamic control and a 10-bands paragraphic equalizer.
Here is how it sounds.
- a live played
grand piano
- a pair of large diaphragm condenser mics in stereo pair
Verbera_Piano_Dry
Then 75% dry + 100% effect, early reflections + 500ms reverb
Verbera_Piano_500ms
1000ms reverb:
Verbera_Piano_1000ms
2500ms reverb:
Verbera_Piano_2500ms
5000ms reverb:
Verbera_Piano_5000ms
Then a test about the
reverb modulation
. The pitch modulation is set to a very high level, so that the reverb sounds "detuned" to the piano:
Verbera_Piano_5000ms_mod
Here is a
mix demo
.
Reverbs come in and out while the parts come in one after one.
Verbera_Demo_Mix
(all rights Vincenzo Comis & ModoZero)
Classic guitar
Verbera_Demo_Guitar_120110
Four environments of increasing size (on a sad, live mic'd, guitar).
Some
Bollywood sounds
.
Verbera_Tabla_Tour
Samples from our "Indian Spices" multitrack performances DVD.
Live multimic'd tabla.
Four environments, increasing size.
The last one has the internal dynamics activated, to tame the very long tail while letting a huge amount of reverb.
Any custom bundle can be freely built for a 40% (or higher) discount. A complicated policy, I know, but useful.
Quinto