#1
28th February 2013

28th February 2013
Studio "Mack" building
---
hello everyone, this is my first post on the Gearslutz forum. My name is Marin(nickname Mack), coming from Croatia. I am 22 years old and studying at SAE Institute Ljubljana. I am a guitar player and first time i get in touch with recording was like 5 years ago, and till then my drems aro to build a
studio one
day, and now that day has finally come.
the place where i will build studio is on the first floor, and in the ground floor is my dad's caffe bar. Place have around 80 square meters and ceeling is not flat so this is good i suppose. Also the isolation is pretty good, because we recorded drums for my band first album here and downstairs when the music i playing at speaking level in bar, there is no spills from upstairs, so one plus in the start. I will now post only plans from top view, but tommorow when i come home i will post pictures of place so you can give me maybe some better advices how i plan to build this. I also read like 100threads of bulding studios, and men there are some crazy projects

i don't have too big budget, but i will done everything professional no matter if something will be expansier than expected, but that's how it goes, right?

plan: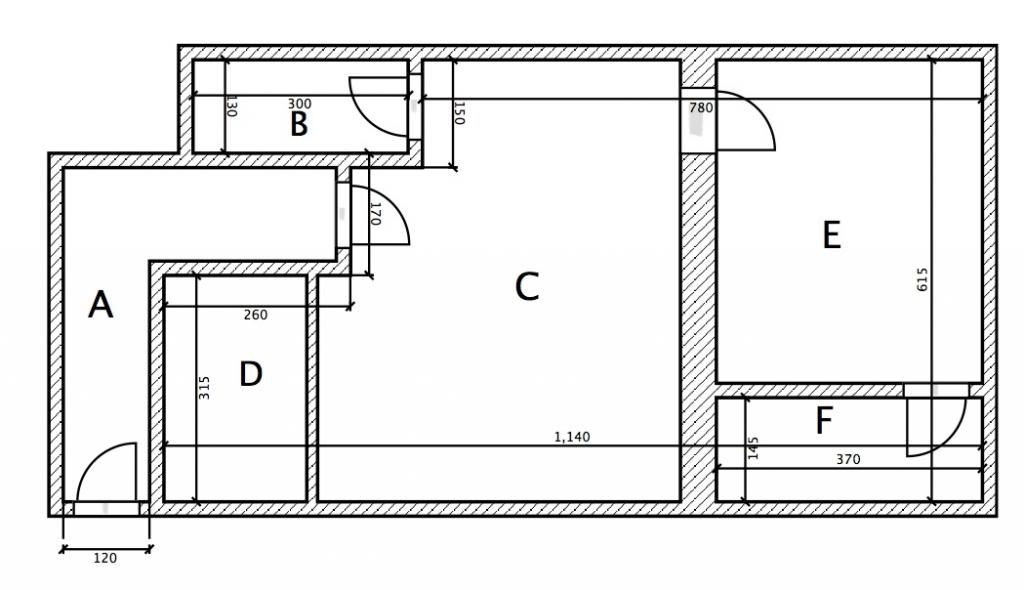 A: hallway, there are stairs wich lead to the first floor, because entrance is in ground floor.
B: this will be my storage room for power, for air conditioner, etc...i also need to break the wall where the doors are in the plan

C: Controol room
D: this is the toilet, but because the pipes are allready build like so that i can not buils smaller room, so this is the smallest possible where i put the wall which seperate CR from toilet. Because that this must be that big, and i also have pipes for shower, i will put jacuzzi in the corner

E: This will be my Live room
F: this will be vocal booth and totally dead room
so yea guys, please give me maybe some tips, and i will soon posts pictures of place