 #1
18th April 2012

18th April 2012
FINALLY building my new studio desk!
---
***UPDATED PHOTOS ON #22***
I thought I would show you guys a drawing of the desk I am going to start building this week. I just learned how to use Google draw the other day, so I know it's not the best, but at least you can see somewhat what it will look like. I will post photos of the progress.
The 88-note keyboard shelf will retract in all the way and out to 15". The right lower cabinet will house my PC in which I am designing a baffle system to keep it nice and quiet...with adequate air circulation. My JBL speakers will be located on stands just behind the angled section left/right behind the monitors....and will slide back when I need to hear a mix without the monitors getting in the way. the bottom left space will house various rack mounted gear.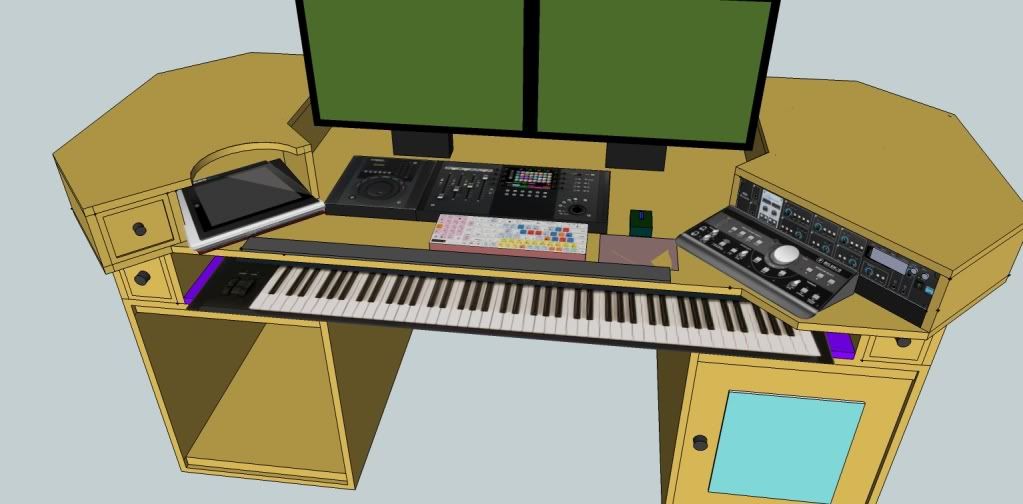 __________________
It is better to compose than decompose

Sean Christopher Dockery
www.SeanDockery.com

Sean Christopher - New Age composer
www.SeanChristopher.net

Windows 7 & Cubase 7

INTEL|CORE I7 980X 3.33G, 12G CORSAIR DDR3, SSD 160G|OCZ for OS.