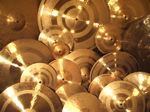 #31
9th June 2007

9th June 2007
just for kicks I ran it thru the TD4 and a couple of notch eqs just ot give the original poster an idea of what some quick TD4 work does! This is not necessarily what I would do with this snare in a mix however - its all mix dependent!

Hope its of interest:
__________________
Emre Ramazanoglu
http://www.emremusic.com
the wise man can pick up a grain of sand and envision the whole universe. The fool, however,
will just lie down on some seaweed and roll around until he's completely draped in it. Then he'll
stand up and go "Hey, I'm vine man"