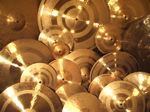 #1
6th February 2005

6th February 2005
omg
---
I just been using my brand new matched pair of royer r-122s on the current album I'm producing. I can't believe these mics, totally awesome, they've beaten all other contendors in most of the applications I have put them up in (acc guitar, perc, some vox, kick, OH, room mics ++more) not many people or studios seem to have these mics here, so apologies for the rave reviews to those converts overseas, but omg they rock. Been having really good results with a number of pres so the +15db of internal gain really helps interfacing with non-impedance matching or lower-gain pres. These are definitely my best-buy in the last couple of years!!
__________________
Emre Ramazanoglu
http://www.emremusic.com
the wise man can pick up a grain of sand and envision the whole universe. The fool, however,
will just lie down on some seaweed and roll around until he's completely draped in it. Then he'll
stand up and go "Hey, I'm vine man"