29th April 2012
Gear maniac
Thread Starter
2D inverse N7 panel - confused again
---
Hi to all the diffusion experts, i need your help again
I have spent the last couple of weeks trying to get a basic understanding of diffusion and the various modules that can be built to achieve my difuusion goals. To date I have sucessfully designed and built 9 of the skyline type diffussors, an array of N31 1D diffussers, 3 standard and 1 inverse. I have turned my attention now to trying to build a clone of the FRG omnifussor from RPG which i understand to be a 2D inverse N7 panel. I am having a great deal of trouble trying to understand and design this panel using qrdude...I have read as much as i can find about these 2d panels but still i'm lost
Reading material...
QRDude design change disccussion
QRD diffusers: Technical Overview
Omniffusor dimensions
In qrdude i am trying to duplicate the dimentions of the RPG omni, working from the cutlist published here,
http://www.rpginc.com/ProductDocs%5C...usor%20FRG.pdf
I estimate the well widths to be approx 76mm and the fins approx 6mm. The 2d build is said to be 102mm (4"). When i input these figures into qrdude i am failing on the scorecard. I know there is shifting and optimizing and other advanced stuff going on which i just don't get.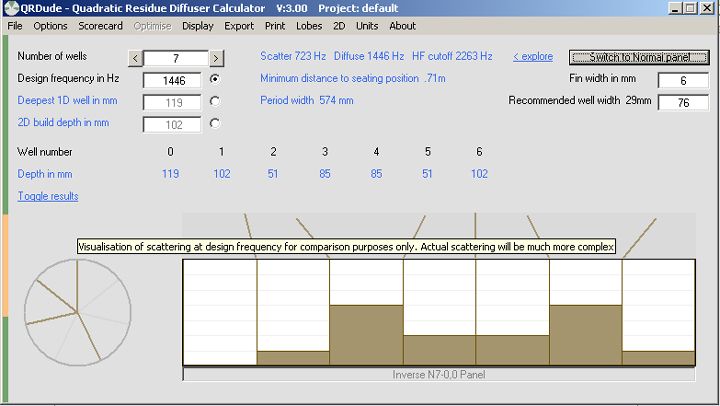 Can somebody please hold my hand and help me get my head around designing and building this omni, thanks
hally