22nd September 2010
Need help setting up my Room (Placement of acoustic panels / bass traps etc)
---
Firstly hi, my first post, excellent forum!
I bought some of these 'Offeccet' Acoustic panels and just need a bit of help / advice as to where I should place them (and don't say in the bin!)

My listening position is pretty much a bass void, so I need to strain to hear the bass and it doesn't improve until I stand up, or move forward. The wife is getting another chair to go to the left of the system so can't move the couch forward. Just wondering where the best place would be to put these panels. They seem to improve the sound a bit..they're designed for low frequencies which are the stem of my problem. I think I may need more, either that or I sell them and buy some more heavy duty rockwool types, as the insulation within these is pretty thin. How about replacing their contents with thicker acoustic foam, would that help too?
Here are some pics to give you an idea of how it is at present (using the mirror trick i've placed them at the first reflection points. There's a bit of an echo in the room when you snap your fingers / clap your hands at the listening position too, so thought these would improve that.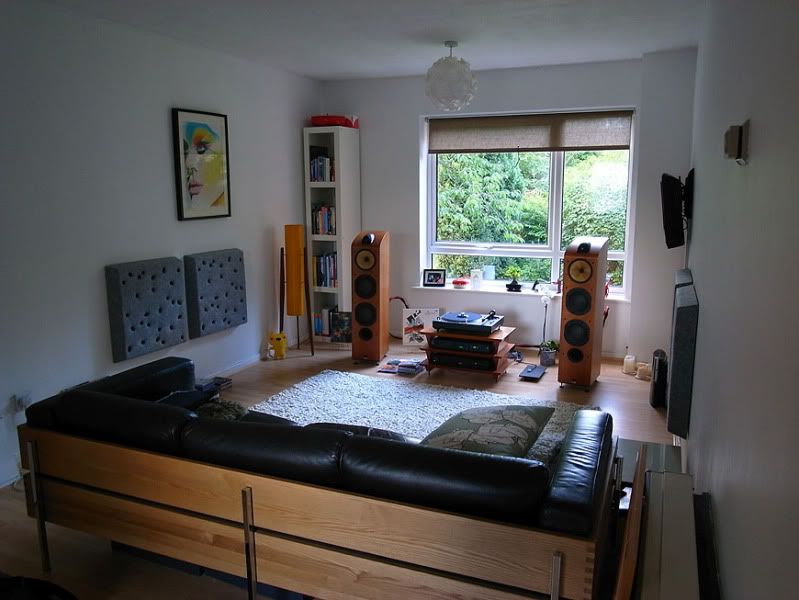 All help will be much appreciated!
Thanks guys